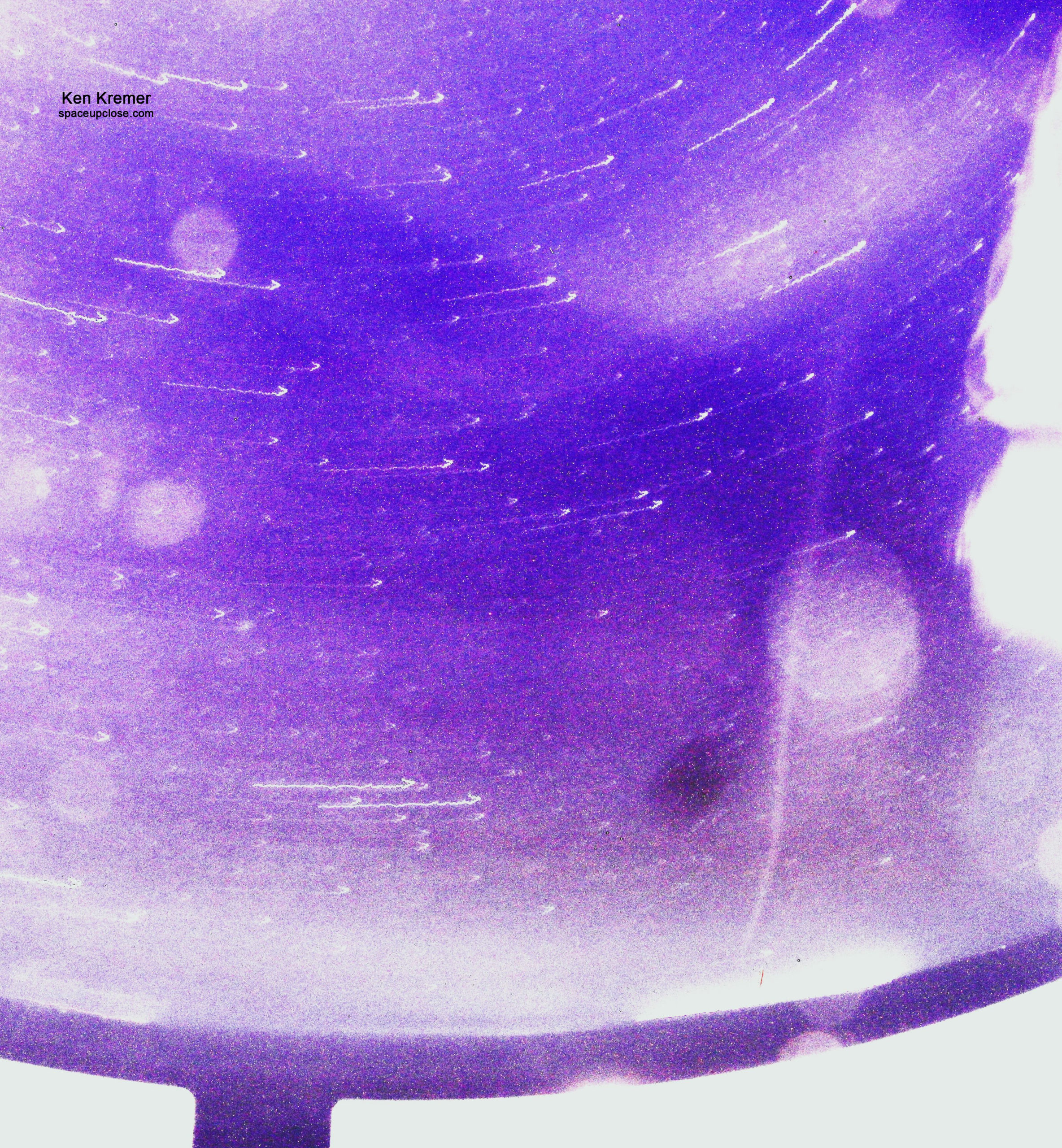 For SpaceUpClose.com & RocketSTEM
MARDI GRAS CARNIVAL CRUISE SHIP, ATLANTIC OCEAN –SpaceX launched its heaviest payload ever on a Falcon 9 rocket during a dead-of-night liftoff at 4:32 a.m. ET early Thursday, Jan. 26, carrying another batch of Starlink broadband internet satellites to low Earth orbit from Florida's Space Coast on a southeasterly trajectory – and which we witnessed for the first time ever from aboard the top deck of a Carnival cruise ship in the Caribbean while the Space UpClose team was on vacation.
The recycled SpaceX Falcon 9 rocket flying for he 9th time and packing that stacked weightiest ever payload of over 38,000 pounds (17.4 metric tons) of 56 Starlink internet satellites on the Starlink 5-2 mission finally lifted off heading southwards after a multiday delay – while the Space UpClose team of Ken Kremer and Jean Wright were coincidentally traveling abord the Carnival Cruise Line ship 'Mardi Gras' sailing over 750 miles southeast of Cape Canaveral.
Our ship was on final approach to Grand Turk Island as the veteran 229-foot-tall (70-meter) SpaceX Falcon 9 roared off pad 40 with almost 5 dozen Starlink internet satellites – flew high above us and then and perfectly stuck the upright droneship 1st stage touchdown some eight minutes later.
The Falcon 9 was flying southeast almost directly towards us – and spectacularly overhead of the Mardi Gras, located some 767 miles (1230 km) southeast of pad 40.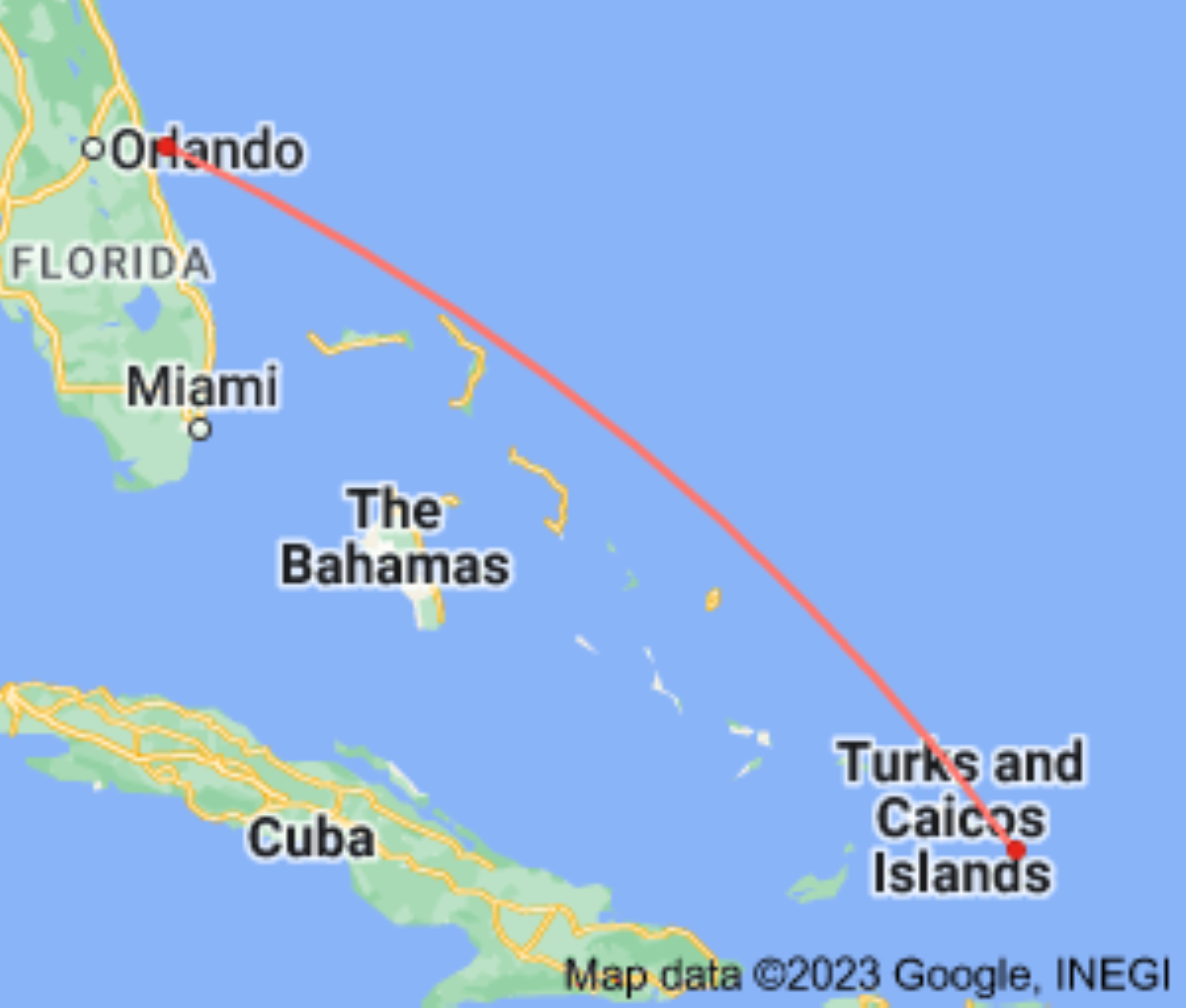 The stunningly beautiful F9 rocket exhaust plume cloud was very faint because of the rather long distance but we did see it more clearly about 2 minutes after liftoff as it steadily rose higher in the sky and then as it passed almost directly over the front stack of the ship.
I did manage to capture the stunning in my long duration streak shot which is very strongly contrast enhanced to bring out the details. See my lead photo
We could not see the landing which was then over 400 miles (700 km) distant – because it was behind the ship from our vantage point.
Myself and Jean arranged several informal and unofficial space outreach events by ourselves aboard the Mardi Gras – attended by very interested crowds of all ages talking all about NASA, Artemis, ISS, Mars and more as well as the looming SpaceX Starlink launch prior to the Falcon 9 blastoff.
Over 50 folks we had never met before attended our informal launch viewing party located on the top deck just above the big pool.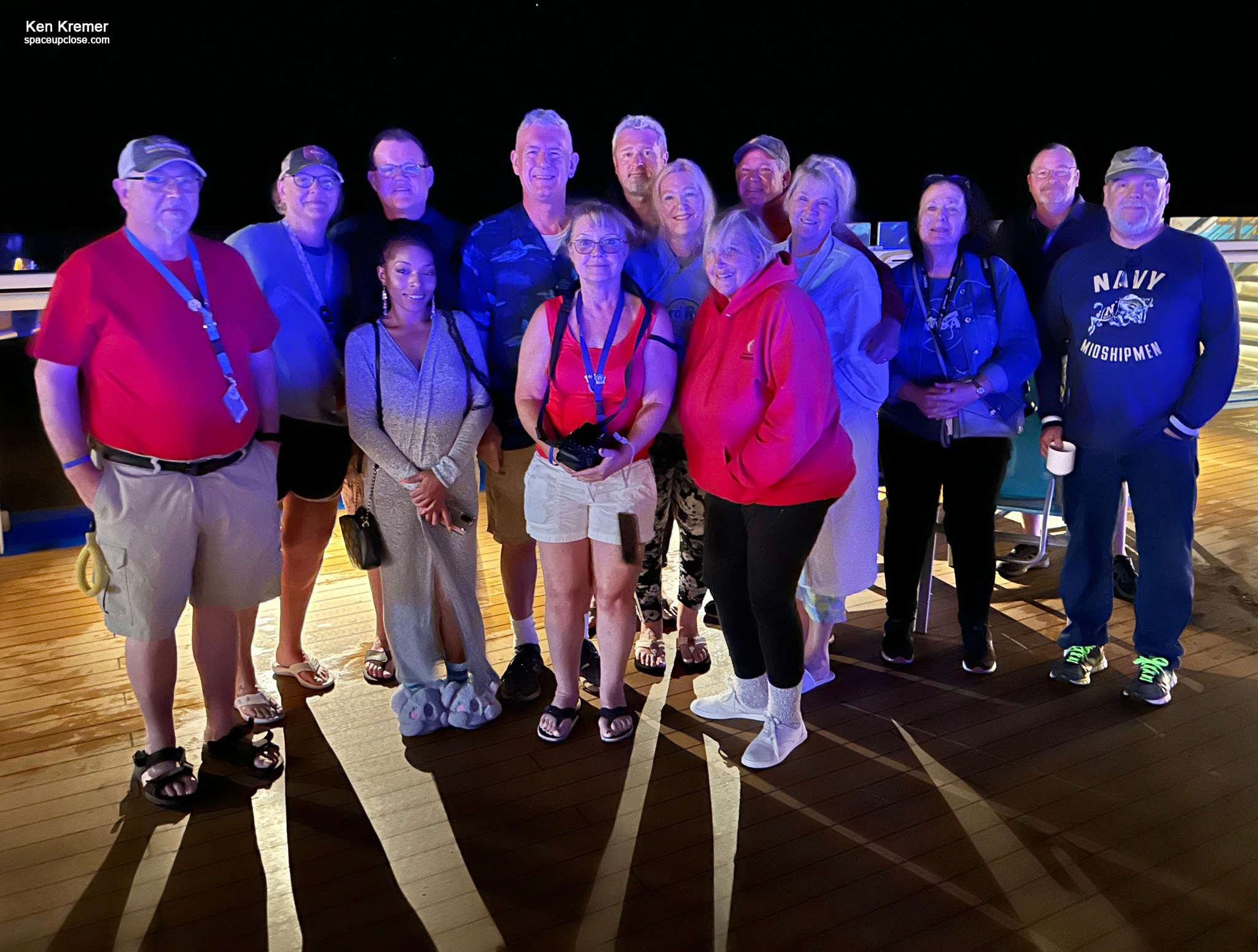 Many told us they were so grateful for this once in a lifetime opportunity to witness a rocket launch – from a cruise ship! And that was absolutely gratifying to hear!
Liftoff of the veteran 229-foot-tall (70-meter) Falcon 9 booster B1067.9 on the Starlink 5-2 mission carrying 56 more Starlinks to orbit took place overnight into clear predawn Atlantic Ocean night skies at 4:32 a.m. EDT (0932 GMT) Thursday, Jan. 26, from Space Launch Complex 40 (SLC-40) at Cape Canaveral Space Force Station in Florida – some ten minutes later than initially planned after a late in the countdown change in T-Zero in the final hour.
New T-0 of 4:32 a.m. ET for this morning's Falcon 9 launch of Starlink; weather is 70% favorable for liftoff

— SpaceX (@SpaceX) January 26, 2023
Overall, our informal launch outreach party was a great success!! Although everyone was on vacation and it was absolutely the middle of the night.
I asked the crowd and they all said they had a great time – without hesitation. And this from folks we had never met anyone before the cruise.
So that was very heartwarming
Furthermore, none of these folks have ever seen a rocket launch up close – or on a cruise ship!!!
Remarkably this was my very first cruise vacation and thus first time seeing a rocket launch from a cruise ship.
The Mardi Gras ship Captain kindly gave me a map with the exact course & ship heading & pad location direction – with most lights & giant movie screen turned off! Thus we could select the best/darkest viewing location spot! – ahead of time, located on the top deck above pool was best.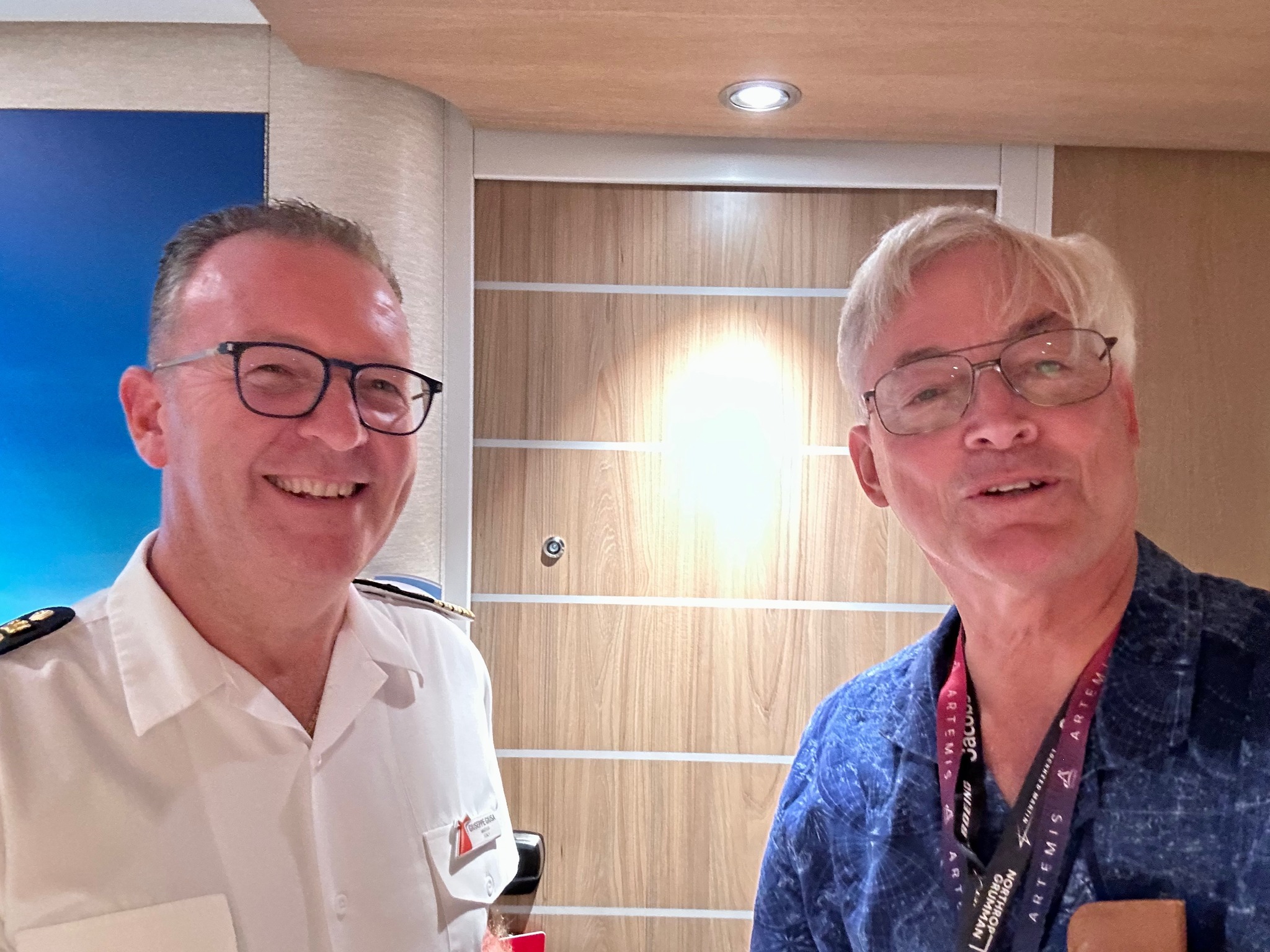 To date I've witnessed over 200 rocket launches upclose!
Jean and me report and photograph launches for this space news website I created, called Space UpClose, I informed the crowd.
This map from Spaceflight Now shows the trajectory of the Starlink 5-2 launch. WE were watching abord Mardi Gras from Grand Turk in the Turks and Caicos Islands
The heavy payload of 56 Starlink satellites on the 5-2 mission blasted off on the 9x recycled Falcon 9 booster tail number B1067 – which also nailed its 9th landing on a droneship at sea eight minutes later located just northeast of the Bahamas and roughly north of our location near Grand Turk island – then over 400 miles (700 km) distant.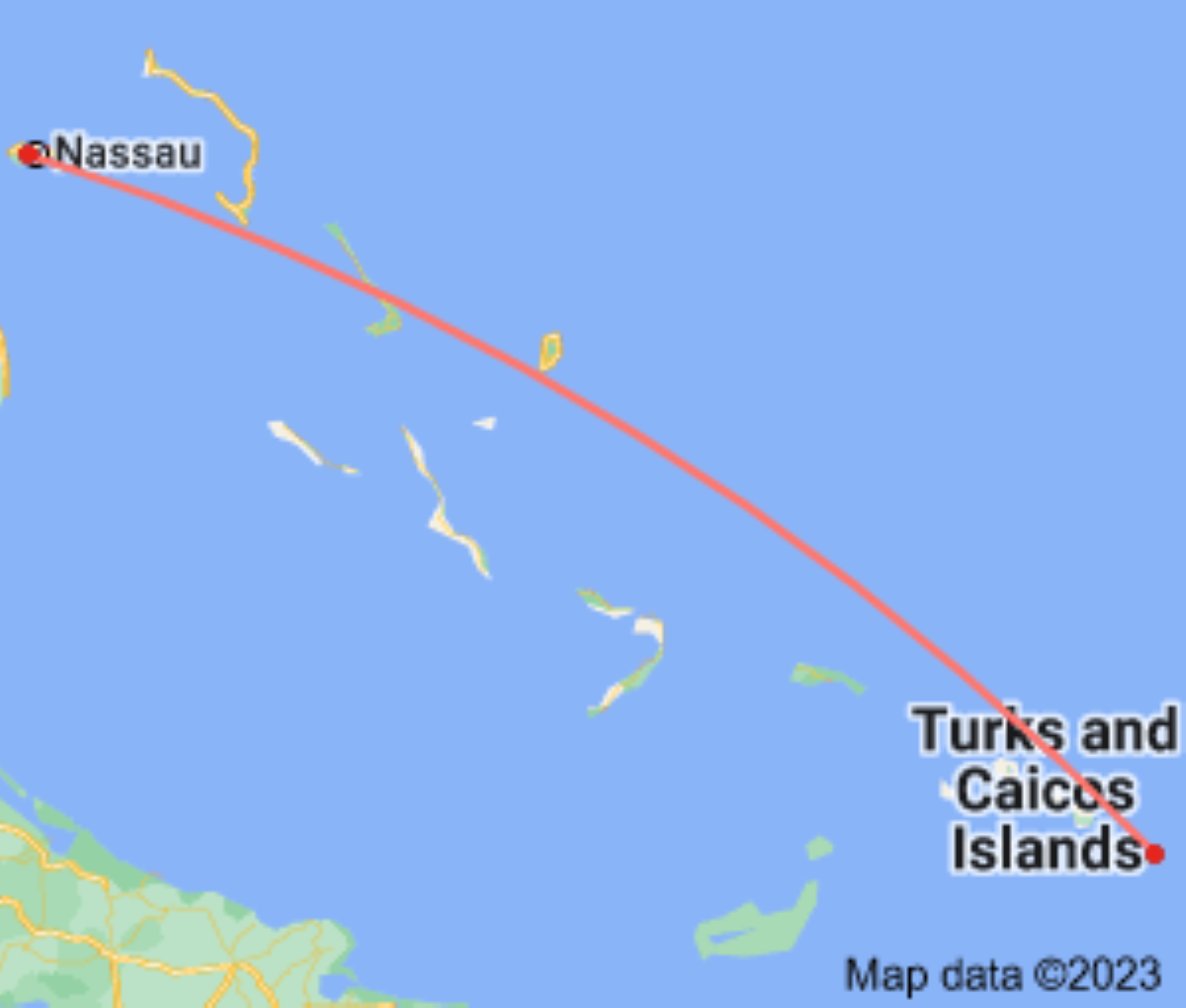 Starlink provides high speed, low latency broadband internet connectivity now on a global basis to all 7 continents.
Falcon 9 launches to orbit 56 Starlink satellites—weighing in total more than 17.4 metric tons—marking the heaviest payload ever flown on Falcon pic.twitter.com/qrgjnm6tUQ

— SpaceX (@SpaceX) January 26, 2023
This liftoff on the Starlink 5-2 mission also counts as the secomd tranche of Starlinks propelled to a new orbital shell in low Earth orbit (LEO) destined to be populated by the firms upgraded Gen2 satellites.
The Starlinks were deployed as planned at 18 min after liftoff.
Deployment of 56 Starlink satellites confirmed

— SpaceX (@SpaceX) January 26, 2023
This was the ninth launch and landing for this Falcon 9 first stage booster, which previously launched CRS-22, Crew-3, Turksat 5B, Crew-4, CRS-25, Eutelsat HOTBIRD 13G, mPOWER-a and now two Starlink missions – including the two astronaut crewed missions and the two cargo resupply mission to the ISS.
Watch this SpaceX tweeted video of the landing on the 'Just Read the Instructions' (JRTI)   droneship landing north of the Bahamas
Falcon 9's first stage has landed on the Just Read the Instructions droneship pic.twitter.com/Es18PGOMsm

— SpaceX (@SpaceX) January 26, 2023
The Gen2 Starlink satellite fleet was recently approved for launch by the Federal Communications Commission (FCC).
Overall this marked the 5th launch by SpaceX already so far this year in 2023.
Also counts as the 69th launch with a primary purpose of placing Starlink internet satellites into orbit.
SpaceX manufactures the Starlinks in-house in Redmond, Washington.
The flat-paneled, solar powered refrigerator-sized satellites were deployed into an elliptical orbit at an inclination of 43 degrees to the equator.
The Starlink satellites will use on-board krypton ion propulsion to raise themselves to their final operating circular orbit some 329 miles (530 kilometers) above Earth.
To date SpaceX has launched 3822 Starlink satellites including prototype and test versions and failed ones, according to a tabulation from astronomer Jonathan McDowell, at the Harvard-Smithsonian Center for Astrophysics.
https://planet4589.org/space/con/star/stats.html
Currently SpaceX has more than 3,485 functioning Starlink satellites in space, with about 3,142 operational
SpaceX has FAA approval to deploy 7,000 Starlinks and eventually hopes to deploy well over 30,000.
SpaceX states that they now have reached a major milestone with over 1 million customers
The cost is approx. $100 per month with a hardware charge of $599.
Starlink now has more than 1,000,000 active subscribers – thank you to all customers and members of the Starlink team who contributed to this milestone ❤️💫🌎 https://t.co/5suNxFvtEH pic.twitter.com/E1ojYarcEA

— SpaceX (@SpaceX) December 19, 2022
The next SpaceX Falcon 9 launch from the Space Coast is slated for Feb 2 with more Starlinks.
A very busy schedule is ahead in Feb culminating in the NASA SpaceX Crew-6 launch of 4 astronauts to the ISS NET Feb. 26
Watch Ken's commentary about Project Artemis, SpaceX Falcon Heavy, Crew-5,  NASA SLS cryo and WDR tests, NASA SpaceX Crew & Cargo Dragons and more
Jan 3/4: WFTV ABC News Orlando interview about todays Jan 3 SpaceX Transporter 6 launch – 1st of 2023 – and record setting year ahead with many exciting missions for NASA and private astronauts, science probes, mission, US Space Force, new rockets like ULA Vulcan & more!
Dec 28/29: Fox 35 Orlando – Watch my commentary about NASA's fantastic success in space exploration in 2022 and ambitious schedule of whats ahead in 2023:
https://www.fox35orlando.com/video/1159922
Dec 11/12: BBC World News TV interview about  successful splashdown of NASA Orion concluding the 25 day Artemis 1 lunar test flight around the Moon and back, and how that sets up a human return to the Moon on Artemis 2 and landing on Artemis 3. Plus what's beyond for NASA deep space exploration to Mars and the search for life beyond Earth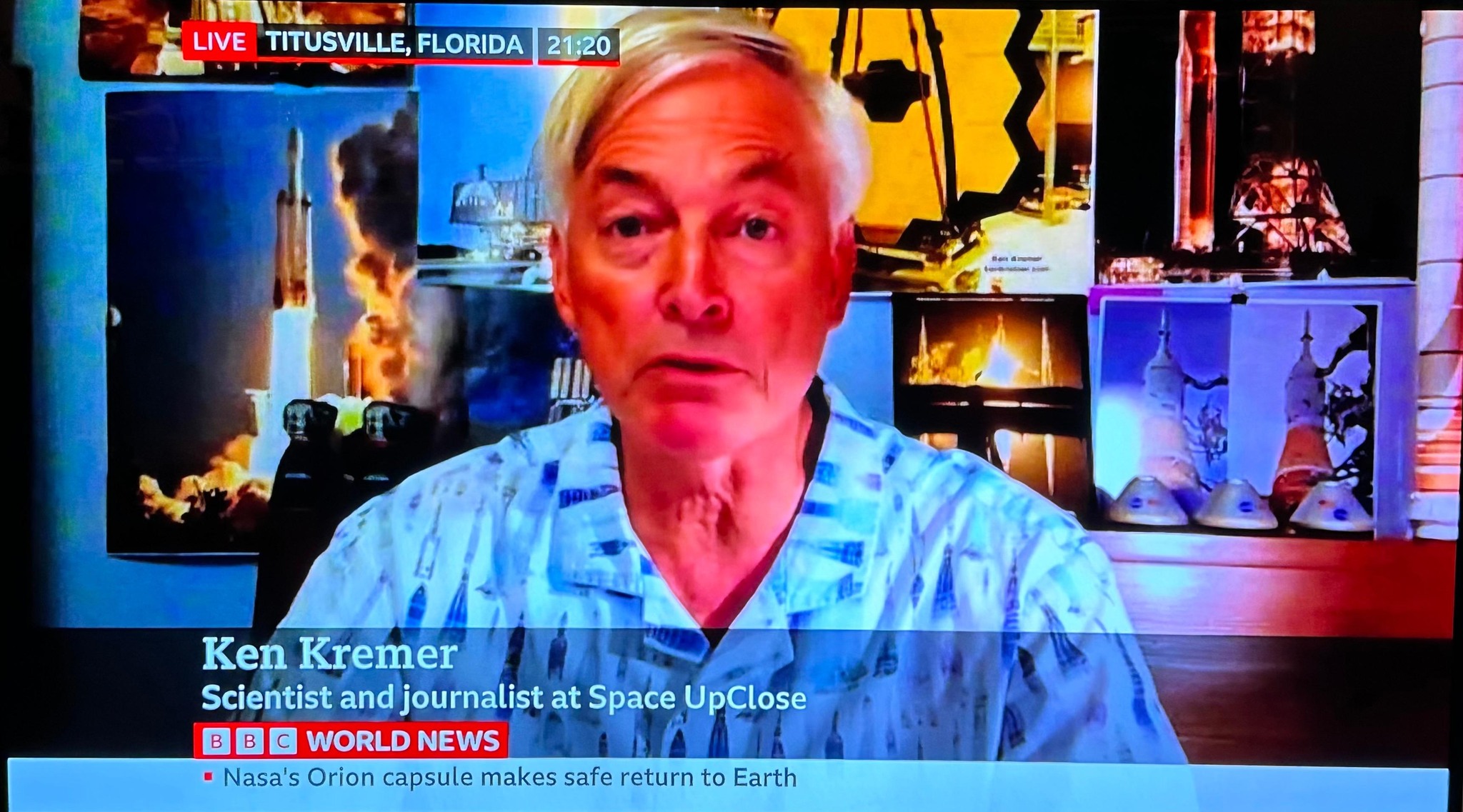 Watch Ken's continuing reports about Artemis, SpaceX missions, SLS, Orion and NASA missions, SpaceX Crew and Cargo Dragons, SpaceX Axiom, JWST, DART, Lucy Asteroid mission, GOES, SpaceX Starlink, Commercial Crew and Starliner and Crew Dragon, Blue Origin and Space Tourism, and onsite for live reporting of upcoming and recent SpaceX and ULA launches including Crew 1 & 2 & 3 & 4 & 5, ISS, Solar Orbiter, Mars 2020 Perseverance and Curiosity rovers, NRO spysats and national security missions and more at the Kennedy Space Center and Cape Canaveral Space Force Station.
Stay tuned here for Ken's continuing Earth and Planetary science and human spaceflight news: www.spaceupclose.com – twitter @ken_kremer – email: ken at kenkremer.com
Dr. Kremer is a research scientist and journalist based in the KSC area, active in outreach and interviewed regularly on TV and radio about space topics.
………….
Ken's photos are for sale and he is available for lectures and outreach events
Please consider supporting Ken's work by purchasing his photos and/or donating at Patreon
https://www.patreon.com/kenkremer
Upcoming and recent space events and talks by Ken Kremer & Jean Wright
Jan 21-28: Carnival Cruise Ship Mardi Gras: "What Happening at NASA and Space Exploration" & SpaceX Falcon 9 Starlink 5-2 launch viewing party Jan 26
Jan 12, 2023: 10 AM at Westminster Retirement Center in Orlando/Winter Park, Florida: Presentation by Jean Wright – "Sew Sister to the Stars- How the Humble Art of Sewing Transformed the World of Flight"+ Artemis 1 Moon rocket update
Nov 29 at UCF, Orlando Florida: Presentation by Jean Wright – "Sew Sister to the Stars- How the Humble Art of Sewing Transformed the World of Flight"
Upcoming and recent space events and talks by Ken Kremer & Jean Wright
Jan 7/11/13, 2023; Dec 7/10/15 and Nov 25/29 from 7 to 9 PM Quality Inn, Titusville, FL:  Join Ken and Jean for Artemis 1, Falcon Heavy and space mission and rocket launch outreach. Ask us anything. plus display our photos and space apparel items for sale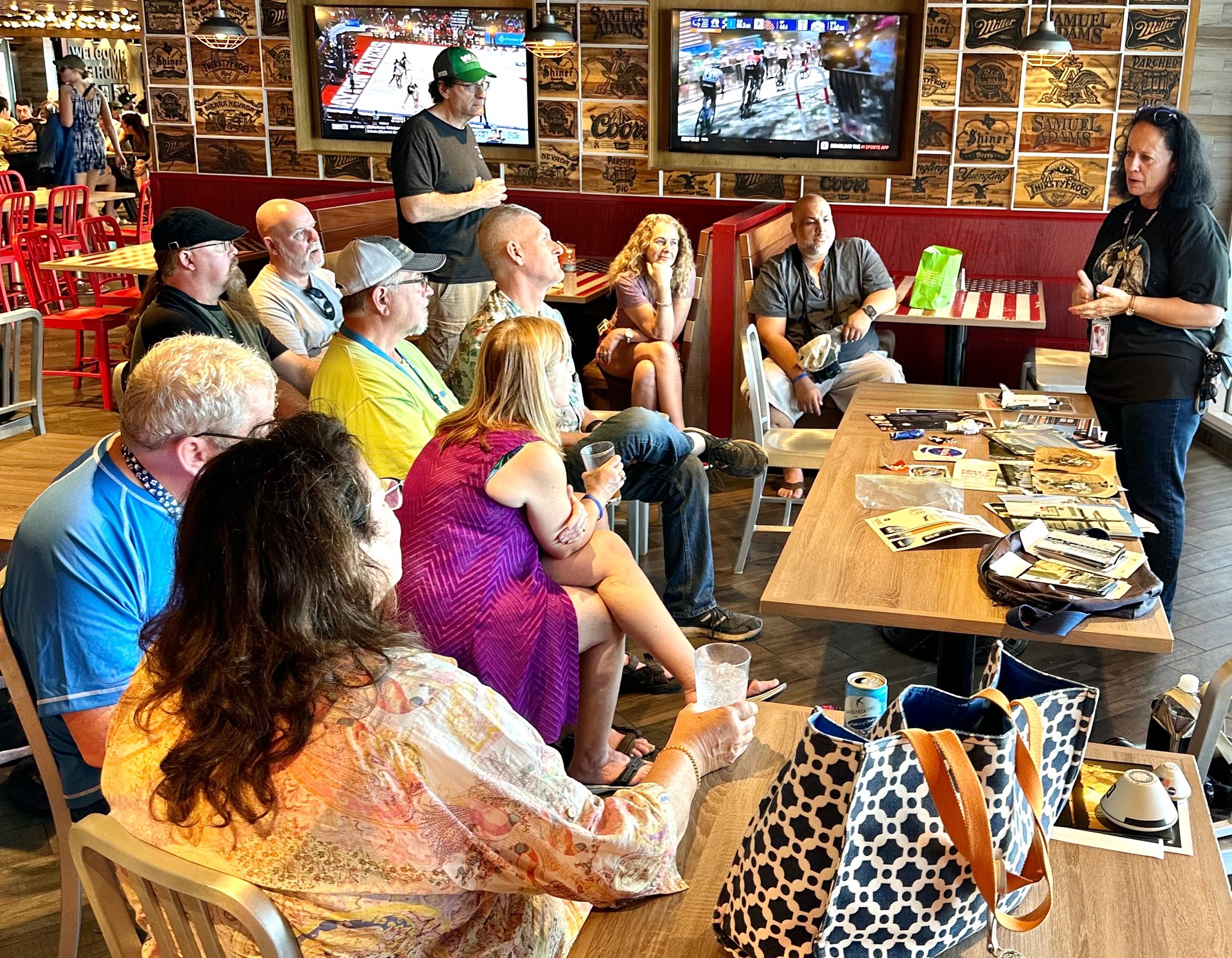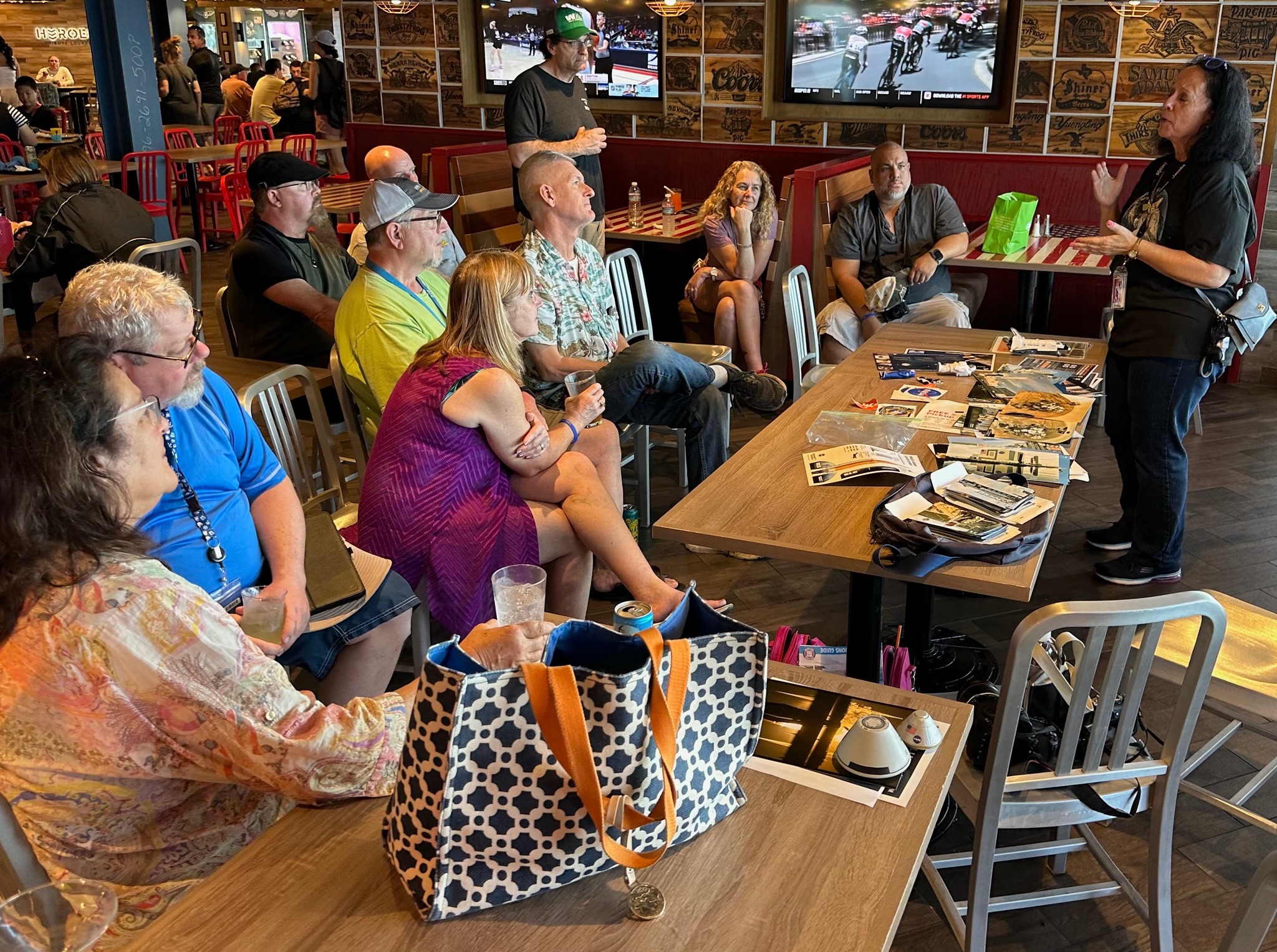 x