CAPE CANAVERAL SPACE FORCE STATION, FL – At last after weather and rocket checking delays SpaceX launched a Spanish communications satellite for Space-based Hispasat Monday evening, Feb. 6, from Florida's Space Coast into crystal clear evening skies that made for superb viewing at it arc away and over on an easterly trajectory delighting spectators for several minutes.
The massive 5 ton Amazonas Nexus satellite owned by Madrid-based Hispasat launched aboard a recycled Falcon 9 to a geosynchronous transfer orbit will connect all of the America's – providing internet connectivity on land, at sea and in the air and to remote communities.
It will replace Amazonas 2 and orbit 22,300 mi (>36,000 km) above Earth when fully functioning in a circular geostationary orbit over the equator.
A small pathfinding payload from the U.S. Space Force was also integrated aboard the satellite
Liftoff of the veteran 229-foot-tall (70-meter) Falcon 9 on the Hispasat Amazonas Nexus mission took place in the evening mostly clear night skies at 8:32 p.m. ET (0132 GMT) Monday, February 6, from Space Launch Complex 40 at Cape Canaveral Space Force Station in Florida – exactly 3 hours later than initially planned at 5:32 p.m. after a late in the countdown change in T-Zero.
The Amazon Nexus will cover the entire American continent, Greenland and the North and South Atlantic corridors and will be focused on connectivity services in remote areas and in air and maritime mobility environments, according to Hispasat.
The Spanish owned and operated satellite was built by France based Thales- Alenia Space
The original launch attempt on Sunday at 5:32 p.m. ET was scrubbed in the face of very poor launch weather on land and booster recovery conditions at sea.
The window stretched for four hours total and thus took place ¾ of the way into the window to complete 'vehicle verifications' – after SpaceX finally publicly announced the launch delay late Monday afternoon.
Eight minutes after liftoff the flight proven booster B1076 nailed the droneship touchdown at sea
The Falcon 9 booster is designated with tail number booster B1073.6 and has now successfully launch and landed 6 times
Overall this launch marked the 202nd successful Falcon 9 launch, the 143rd recycled booster and the 170th successful landing.
Some 70% of the Falcon 9s have used recycled 1st stage boosters!
The first stage booster B1073.6 supporting this mission previously launched SES-22, ispace's HAKUTO-R Mission 1, and three Starlink missions.
Following stage separation, the first stage landed on the 'Just Read the Instructions' (JRTI)  droneship, which was stationed downrange in the Atlantic Ocean north of the Bahamas.
Falcon 9's first stage has landed on the Just Read the Instructions droneship pic.twitter.com/pULkVL0dYi

— SpaceX (@SpaceX) February 7, 2023
"This satellite represents a new era for the services provided by HISPASAT, as it is equipped with a state-of-the-art Digital Transparent Processor (DTP) that will allow it to increase its geographic flexibility in the event of changes in the commercial scenarios initially proposed," says Hispasat.
"HISPASAT has reached multiple business agreements to lease the long-term capacity Amazonas Nexus with operators and service providers in the governmental and connectivity fields for the aviation sector and in remote areas."
The Amazonas Nexus satellite stands nearly 20 feet (about 6 meters) tall.
The SpaceX Falcon 9 successfully placed the 9,140 pounds (4,146 kg) Amazonas Nexus in its transfer orbit about thirty five minutes after liftoff.
Deployment of @Hispasat's Amazonas Nexus confirmed pic.twitter.com/jx7uE82UmL

— SpaceX (@SpaceX) February 7, 2023
Over the next six months the satellite will be raised to its geostationary orbit destination.
Once there, the operational readiness and checkout tests will be carried out for several weeks to verify its correct operation.
Thereafter it will be placed in its final orbital position at 61º West, where it will replace and expand the capacity of Amazonas 2.
"Space Systems Command (SSC) successfully launched the Pathfinder 2 mission hosted on Hispasat's Amazonas Nexus satellite aboard a SpaceX Falcon 9 rocket," said the Space Force
The Pathfinder 2 transponder is aimed to demonstrate faster paths to orbit via commercially launching satellites vs waiting for a dedicated US military satellite
After the satellite reaches orbit and completes its checkout and initialization the U.S. Space Force transponder will be ready for the engineers at Artel, LLC and operators at Space Operations Command, Peterson Space Force Base, Colorado to begin on-orbit checkout and test before operationally accepting the mission for use by warfighters.
This third Pathfinder mission and features a high bandwidth protected communications transponder on board the Amazonas Nexus satellite. The goal of the Pathfinder series is to demonstrate affordable bandwidth acquisition by gaining long-term access to transponder assets from commercial satellite providers.
"This mission demonstrates the high degree of partnership between military and commercial acquisition. Pathfinder 2 satisfies warfighter requirements by procuring commercially provided pre-launch transponders and securing bandwidth at a lower total ownership cost," said Charlotte Gerhart, chief of SSC's Tactical SATCOM Acquisition Delta.
Watch Ken's commentary about Project Artemis, SpaceX Falcon Heavy, Crew-5,  NASA SLS cryo and WDR tests, NASA SpaceX Crew & Cargo Dragons and more
Jan 3/4: WFTV ABC News Orlando interview about Jan 3 SpaceX Transporter 6 launch – 1st of 2023 – and record setting year ahead with many exciting missions for NASA and private astronauts, science probes, mission, US Space Force, new rockets like ULA Vulcan & more!
Dec 28/29: Fox 35 Orlando – Watch my commentary about NASA's fantastic success in space exploration in 2022 and ambitious schedule of whats ahead in 2023:
https://www.fox35orlando.com/video/1159922
Dec 11/12: BBC World News TV interview about  successful splashdown of NASA Orion concluding the 25 day Artemis 1 lunar test flight around the Moon and back, and how that sets up a human return to the Moon on Artemis 2 and landing on Artemis 3. Plus what's beyond for NASA deep space exploration to Mars and the search for life beyond Earth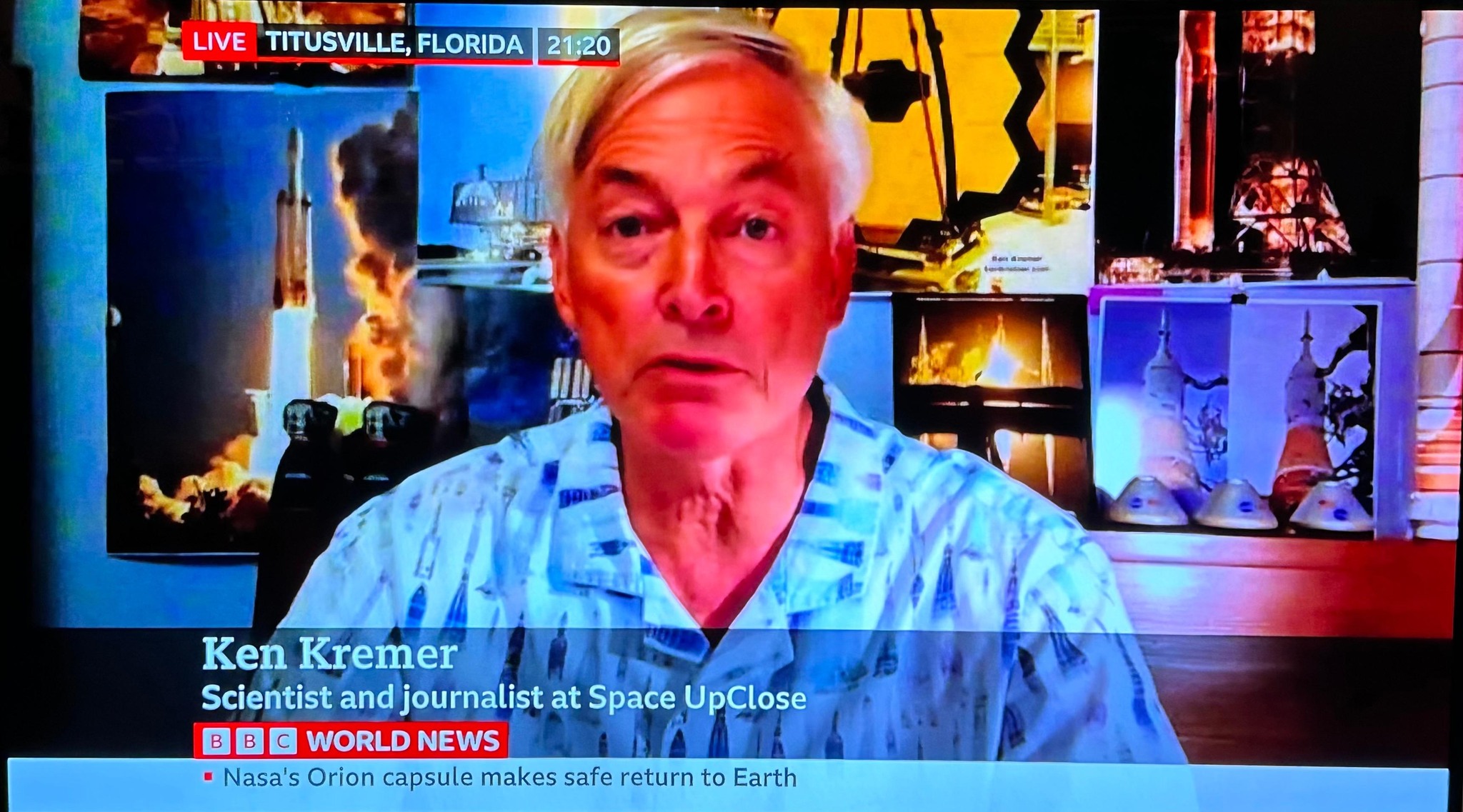 Watch Ken's continuing reports about Artemis, SpaceX missions, SLS, Orion and NASA missions, SpaceX Crew and Cargo Dragons, SpaceX Axiom, JWST, DART, Lucy Asteroid mission, GOES, SpaceX Starlink, Commercial Crew and Starliner and Crew Dragon, Blue Origin and Space Tourism, and onsite for live reporting of upcoming and recent SpaceX and ULA launches including Crew 1 & 2 & 3 & 4 & 5, ISS, Solar Orbiter, Mars 2020 Perseverance and Curiosity rovers, NRO spysats and national security missions and more at the Kennedy Space Center and Cape Canaveral Space Force Station.
Stay tuned here for Ken's continuing Earth and Planetary science and human spaceflight news: www.spaceupclose.com – twitter @ken_kremer – email: ken at kenkremer.com
Dr. Kremer is a research scientist and journalist based in the KSC area, active in outreach and interviewed regularly on TV and radio about space topics.
………….
Ken's photos are for sale and he is available for lectures and outreach events
Please consider supporting Ken's work by purchasing his photos and/or donating at Patreon
https://www.patreon.com/kenkremer
Upcoming and recent space events and talks by Ken Kremer & Jean Wright
Jan 21-28: Carnival Cruise Ship Mardi Gras: "What Happening at NASA and Space Exploration" & SpaceX Falcon 9 Starlink 5-2 launch viewing party Jan 26
Jan 12, 2023: 10 AM at Westminster Retirement Center in Orlando/Winter Park, Florida: Presentation by Jean Wright – "Sew Sister to the Stars- How the Humble Art of Sewing Transformed the World of Flight"+ Artemis 1 Moon rocket update
Nov 29 at UCF, Orlando Florida: Presentation by Jean Wright – "Sew Sister to the Stars- How the Humble Art of Sewing Transformed the World of Flight"
Feb 4, 11, Jan 7,11- 2023; from 7 to 9 PM Quality Inn, Titusville, FL:  Join Ken and Jean for Artemis 1, Falcon Heavy and space mission and rocket launch outreach. Ask us anything. plus display our photos and space apparel items for sale
x