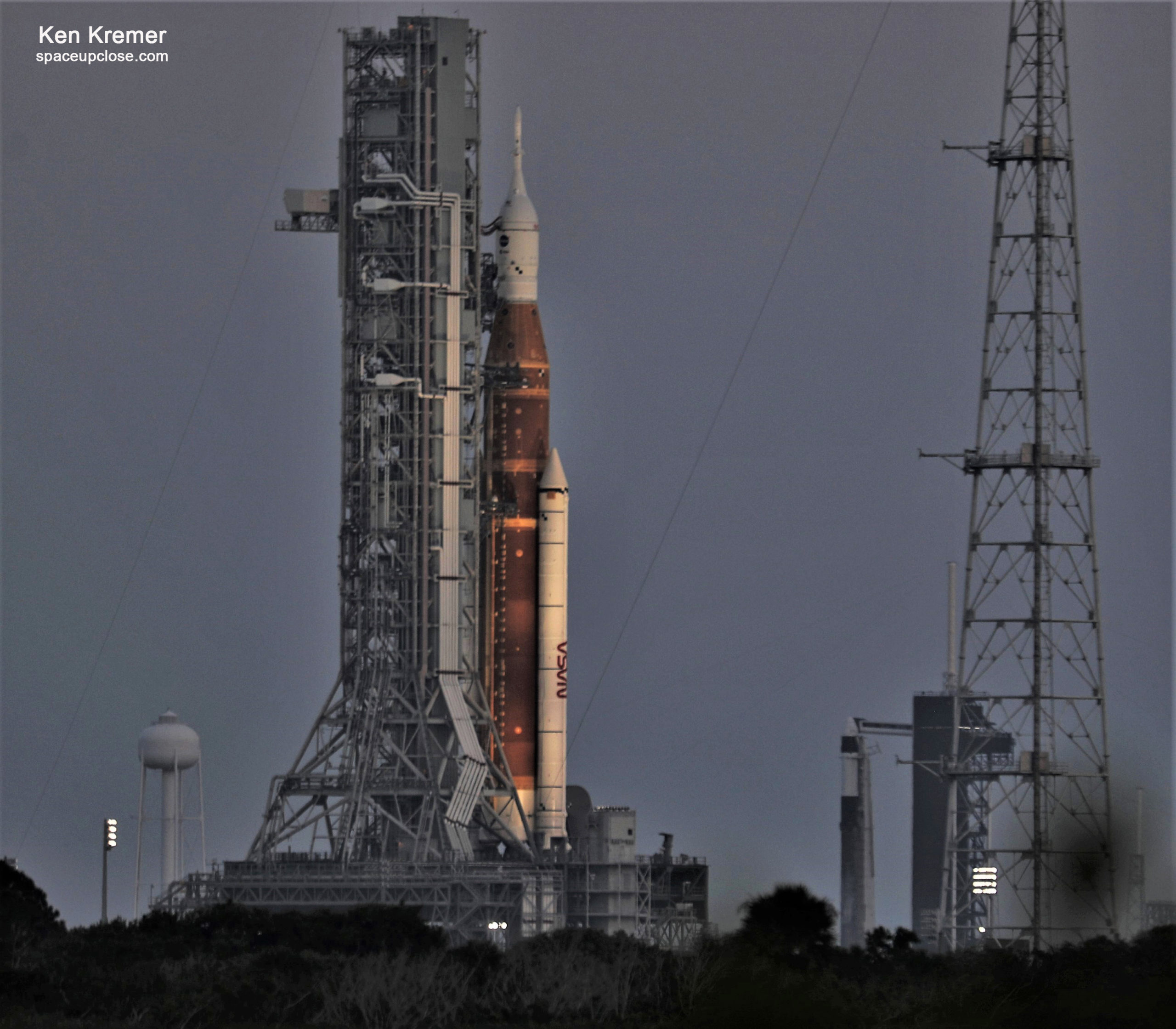 KENNEDY SPACE CENTER/CANAVERAL NATIONAL SEASHORE, FL – For a brief few days in early April a pair of rockets and spaceships designed to carry humans to space were standing simultaneously vertical at the sister pads at the same time Launch Pads 39B and 39A at the Kennedy Space Center (KSC) in Florida for the first time since 2009 – namely NASA's SLS and SpaceX's Falcon 9.
In a remarkable feat of coincidence the NASA SLS Mega Moon rocket for the Artemis 1 lunar mission and the SpaceX Falcon 9 rocket for the Axiom mission 1 (AX-1) to the ISS were both inhabiting adjacent launch pads 39B and 39A for the first time ever – as well as marking the first time since 2009 that both KSC pads were occupied with rockets of any kind.
"This is the first time two totally different types of rockets and spacecraft designed to carry humans are on the sister pads at the same time—but it won't be the last as NASA's Kennedy Space Center in Florida continues to grow as a multi-user spaceport to launch both government and commercial rockets," NASA officials announced.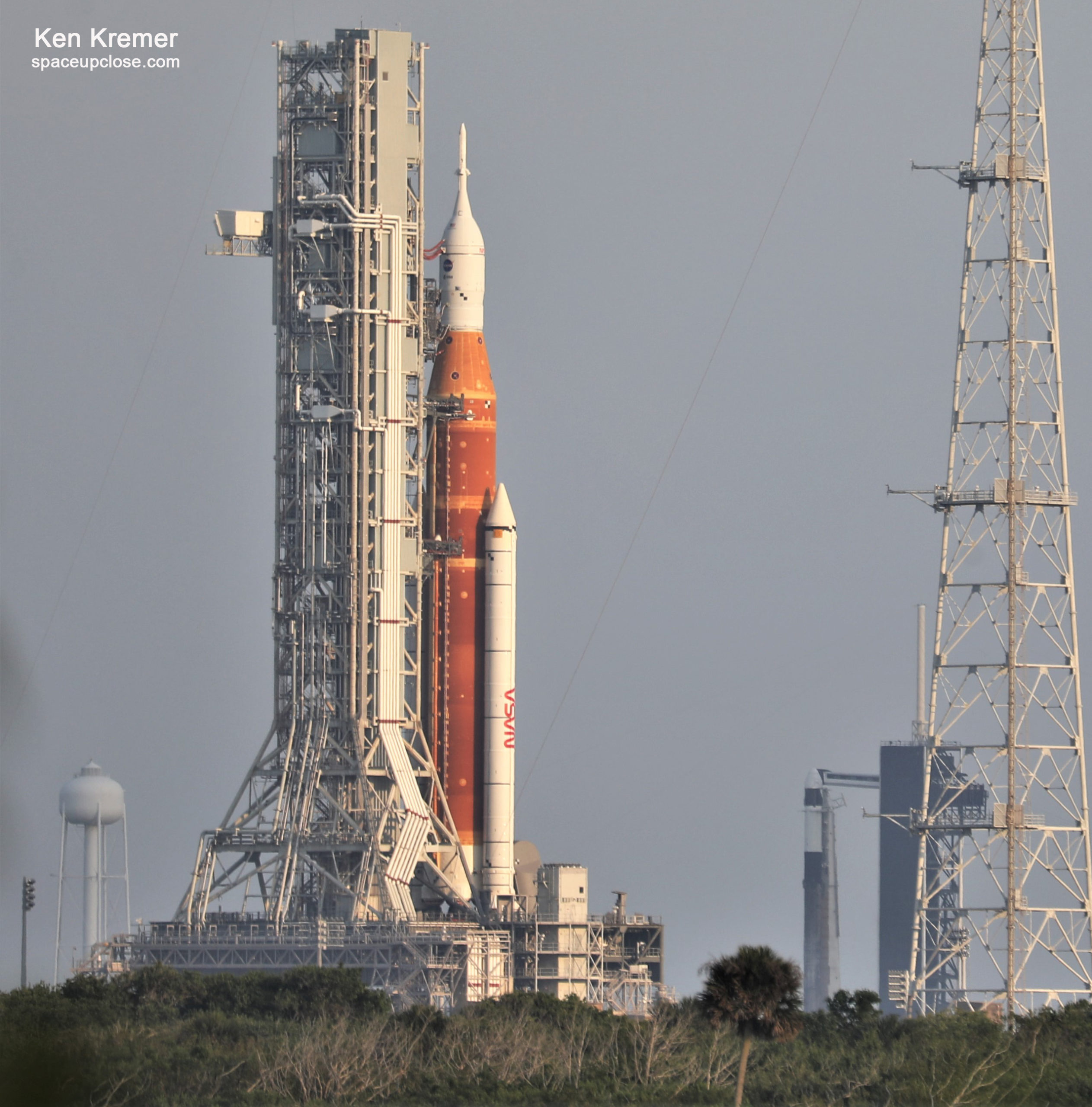 Enjoy our photos of the NASA SLS moon rocket and Space Falcon 9 vertical at pads 39B and 39A taken on Wednesday, April 6 by the Space UpClose team of Ken Kremer and Jean Wright from offsite on Canaveral National Seashore.
Since rolling out atop the Mobile Launcher from the VAB in mid-March, SLS has been standing at pad 39B to conduct the critical countdown and fueling test known as the Wet Dress Rehearsal (WDR) to prepare for the unpiloted Artemis 1 moon mission.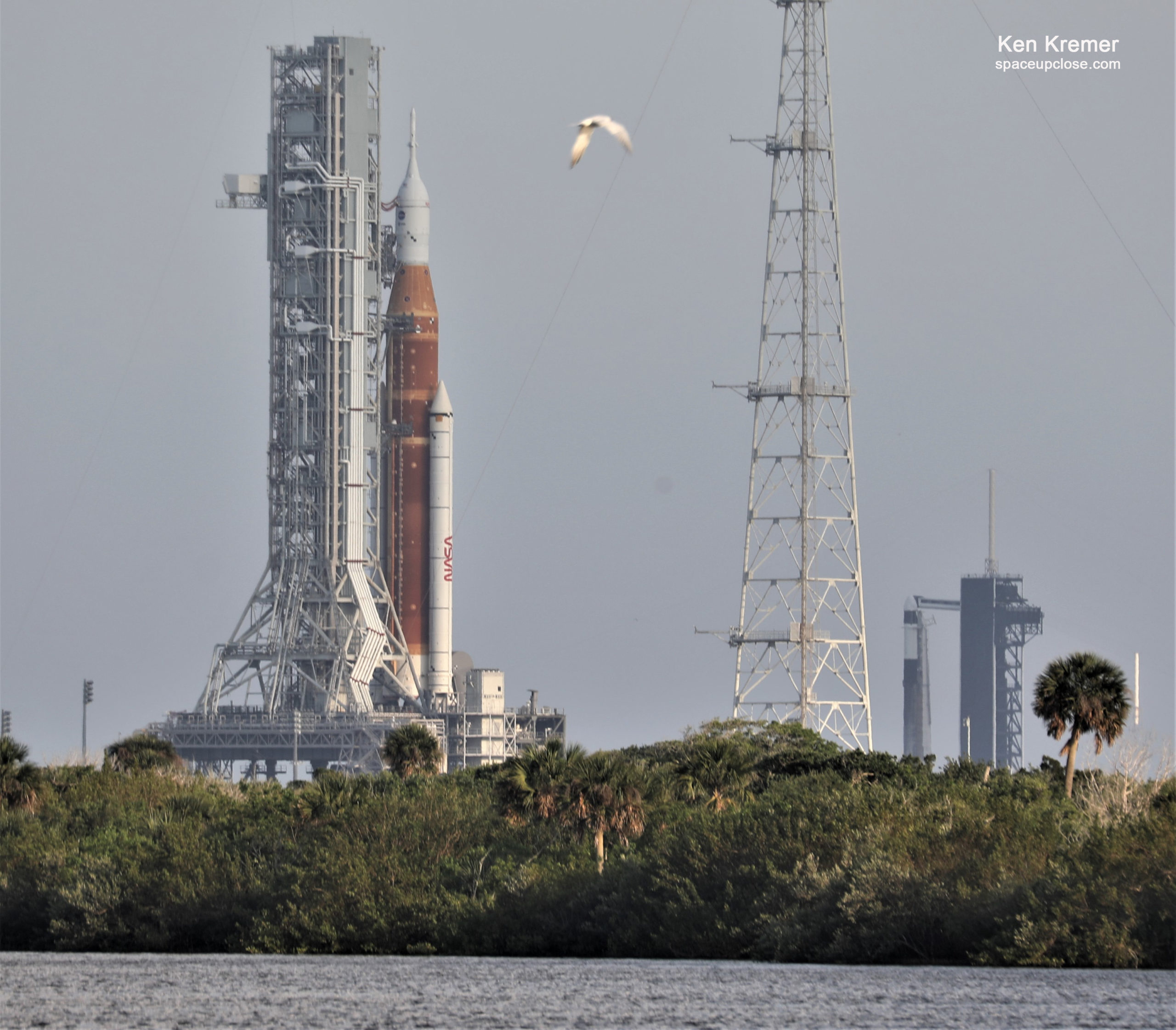 The WDR was eventually scrubbed a second time on April 4 due to a faulty helium purge vent valve issue that could not be fixed at the pad
It has been rescheduled to start for a third time on Tuesday, April 12.
The SpaceX Falcon 9 rocket for the Axiom-1 first ever all private commercial mission to the International Space Station (ISS) was standing about 8,700 feet (2.7 kilometers) to the south at pad 39A after rolling out for the launch that eventually blasted off as planned on Friday, April 8.
By way of comparison the SLS and Orion crew capsule stands 322 feet (98 meters) tall and generates 8.8 million pounds of first stage liftoff thrust to send astronauts to the Moon and back.
Whereas the SpaceX Falcon 9 and Crew Dragon stands 215 feet (65 meters) tall and generates 1.7 million pounds of liftoff thrust to send astronauts to low Earth orbit (LEO).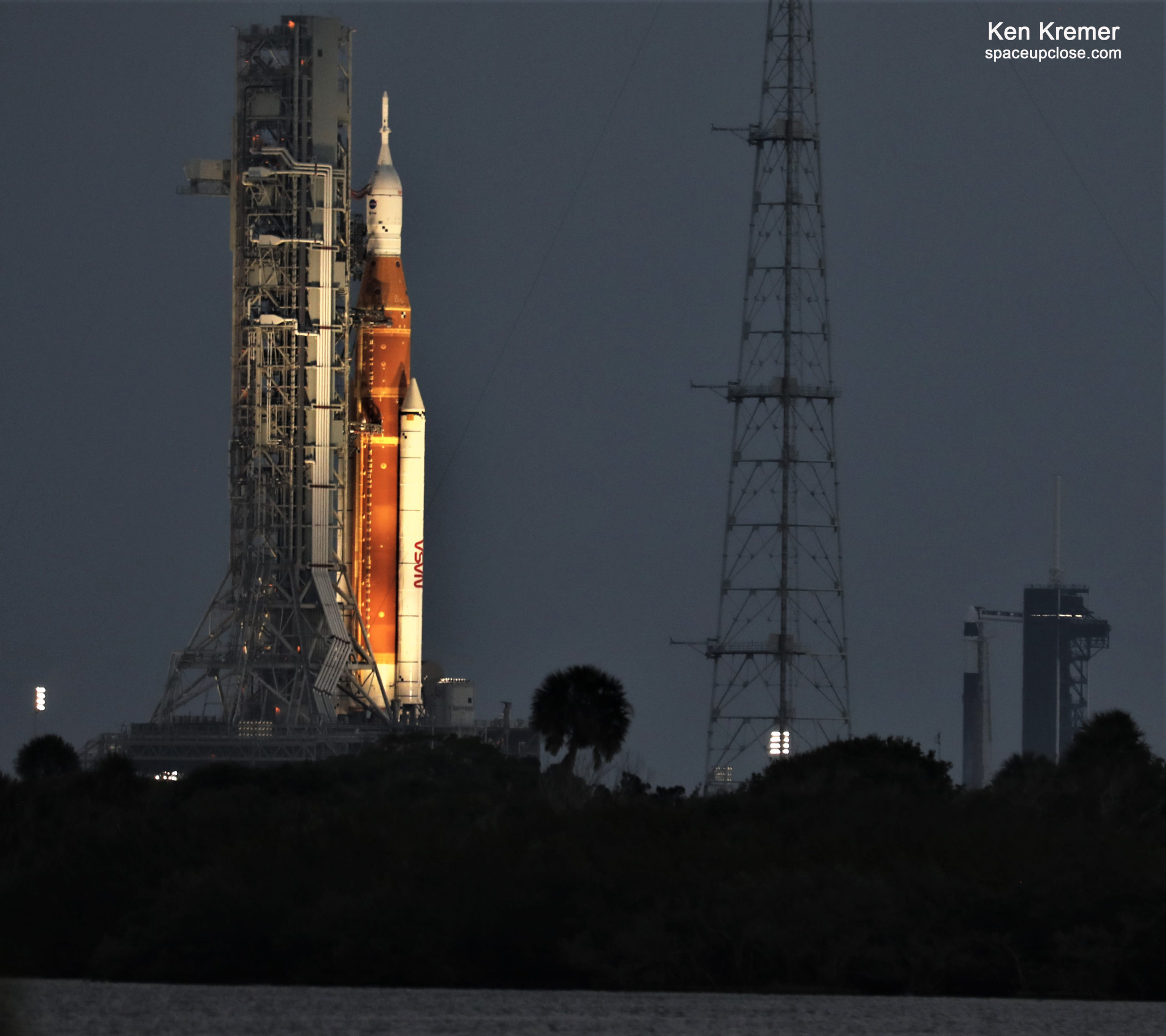 KSC launch pads 39A and B were originally built in the 1960s for NASA's Apollo moon landing program.
They were eventually modified to launch NASA's Space Shuttles and there were a number of occasions over the three decade long program that shuttles stood simultaneously at both pads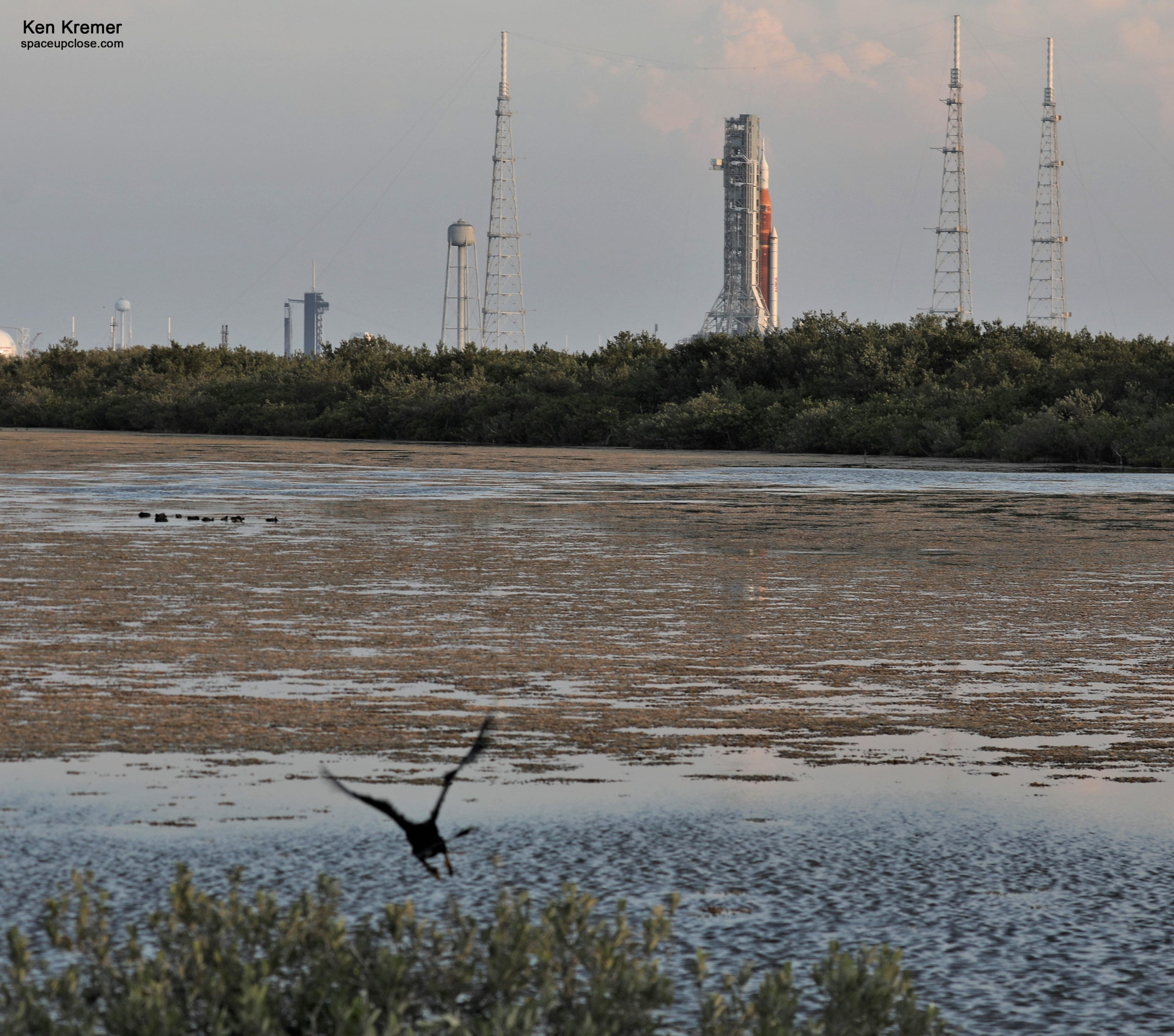 The last time both pads were simultaneously inhabited with space shuttles was in May 2009 for the STS-125 mission – for the final Hubble repair mission with Atlantis on pad 39A and with a backup shuttle positioned at pad 39B.
The Ares 1-X launch took place from pad 39B while Atlantis waited to launch on the STS 129 mission from pad 39A in October 2009.
Watch Ken's commentary about NASA SLS WDR demo test, NASA Crew 4 and Space AX-1 mission
Apr 6: WFTV ABC 9 Orlando featured my comments about 1st fully private astronaut launch to ISS by SpaceX on AX-1 mission:
https://www.wftv.com/news/local/brevard-county/first-all-private-astronaut-mission-iss-set-liftoff-kennedy-space-center-this-week/FYE5QAT735BA7G42O6IVCJGB4Q/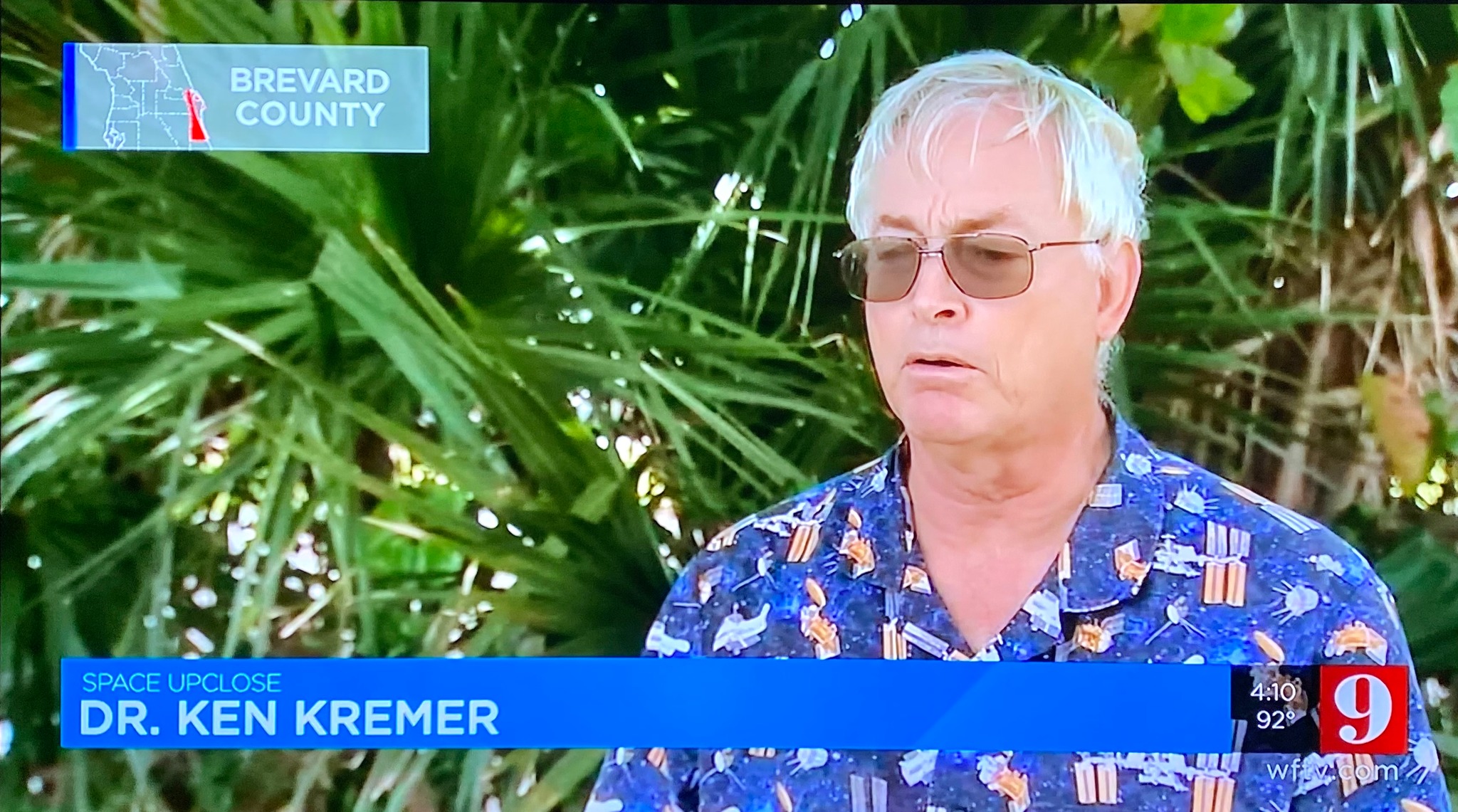 Apr 4 & 5: WFTV ABC News Orlando and Fox 35 Orlando featured my comments about NASA SLS WDR wet dress rehearsal countdown and fueling demo test and human launches to ISS
https://www.wftv.com/news/local/nasa-artemis-mission-hold-testing-delayed-second-time/L637Y3454VDJPBZRH4RZMM2XRQ/
https://www.fox35orlando.com/news/nasa-resumes-artemis-i-wet-dress-rehearsal-countdown
Watch the guest appearance by Ken Kremer & Jean Wright on 'Stay Curious' on March 25 at American Space Museum about SLS Artemis 1 Moon rocket rollout to pad 39B with my up close photos:
https://www.facebook.com/SpaceWalkOfFame/videos/644149686687128
Watch Ken's continuing reports about Artemis, SpaceX Axiom-1, SLS, Orion and NASA missions, JWST, Lucy Asteroid mission, GOES, SpaceX Cargo and Crew Dragons, SpaceX Starlink, Commercial Crew and Starliner and Crew Dragon, Blue Origin and Space Tourism, and onsite for live reporting of upcoming and recent SpaceX and ULA launches including Crew 1 & 2 & 3 & 4, ISS, Solar Orbiter, Mars 2020 Perseverance and Curiosity rovers, NRO spysats and national security missions and more at the Kennedy Space Center and Cape Canaveral Space Force Station.
Stay tuned here for Ken's continuing Earth and Planetary science and human spaceflight news: www.kenkremer.com –www.spaceupclose.com – twitter @ken_kremer – email: ken at kenkremer.com
Dr. Kremer is a research scientist and journalist based in the KSC area, active in outreach and interviewed regularly on TV and radio about space topics.
………….
Ken's photos are for sale and he is available for lectures and outreach events
Please consider supporting Ken's work by purchasing his photos and/or donating at Patreon:
https://www.patreon.com/kenkremer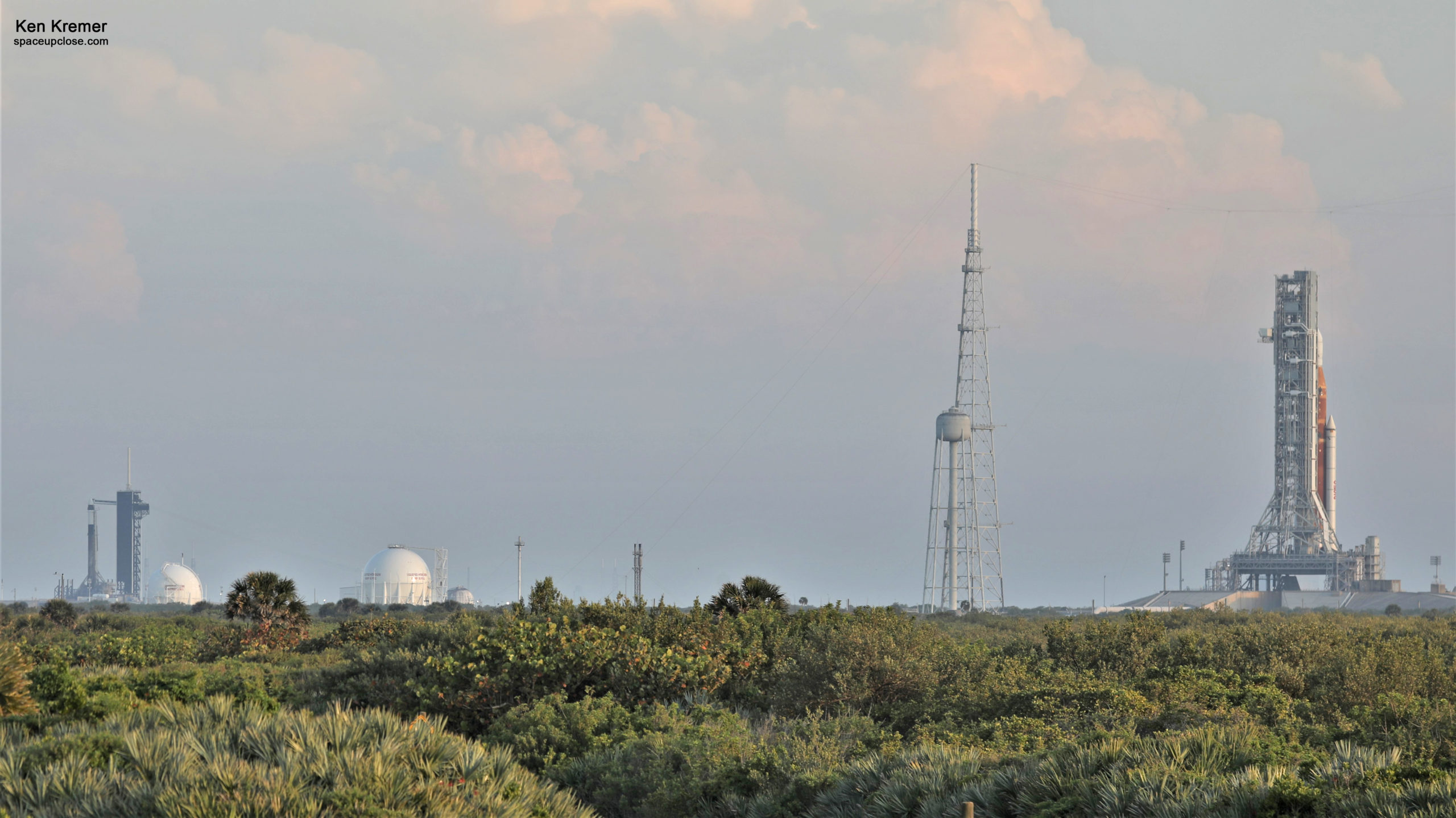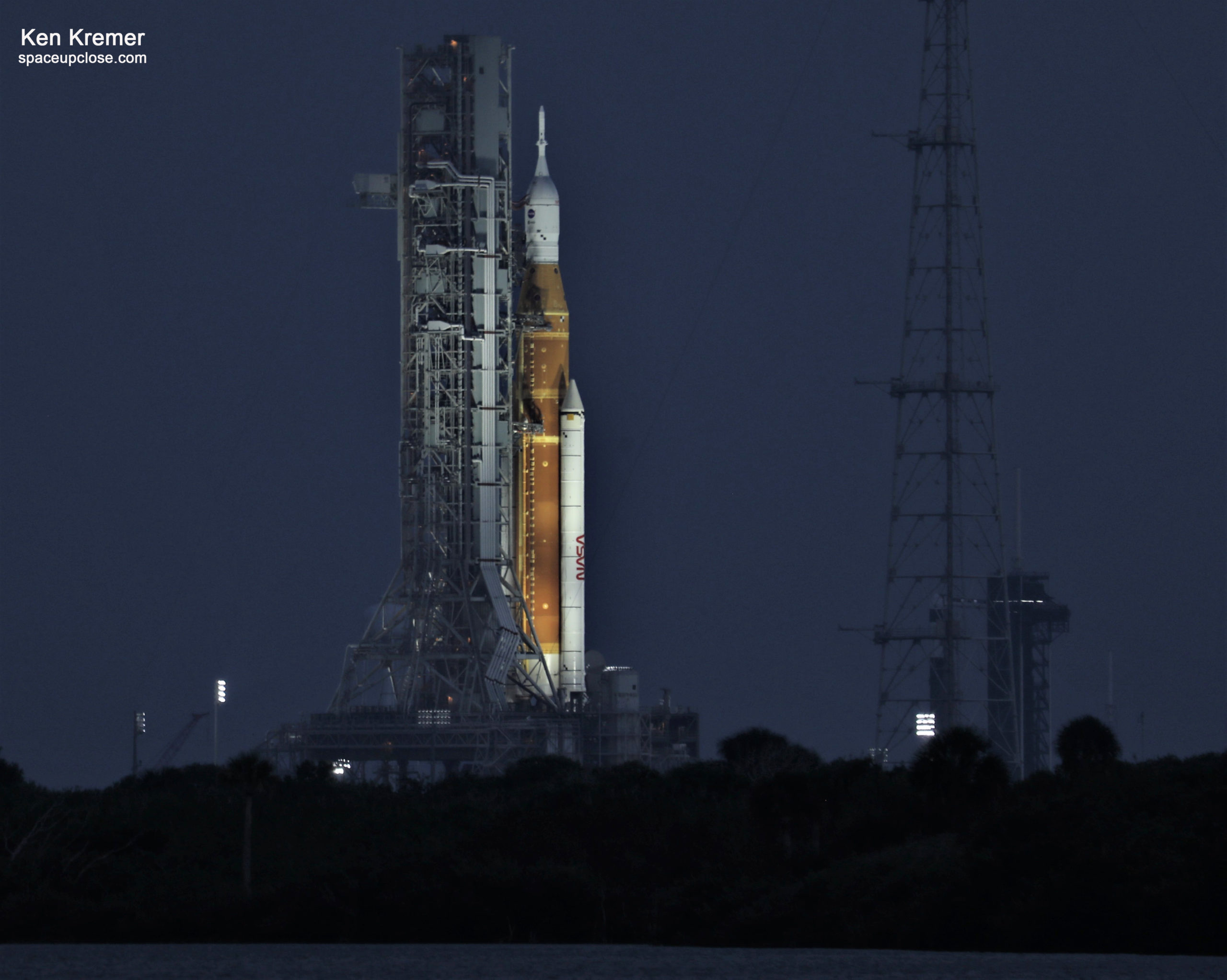 x