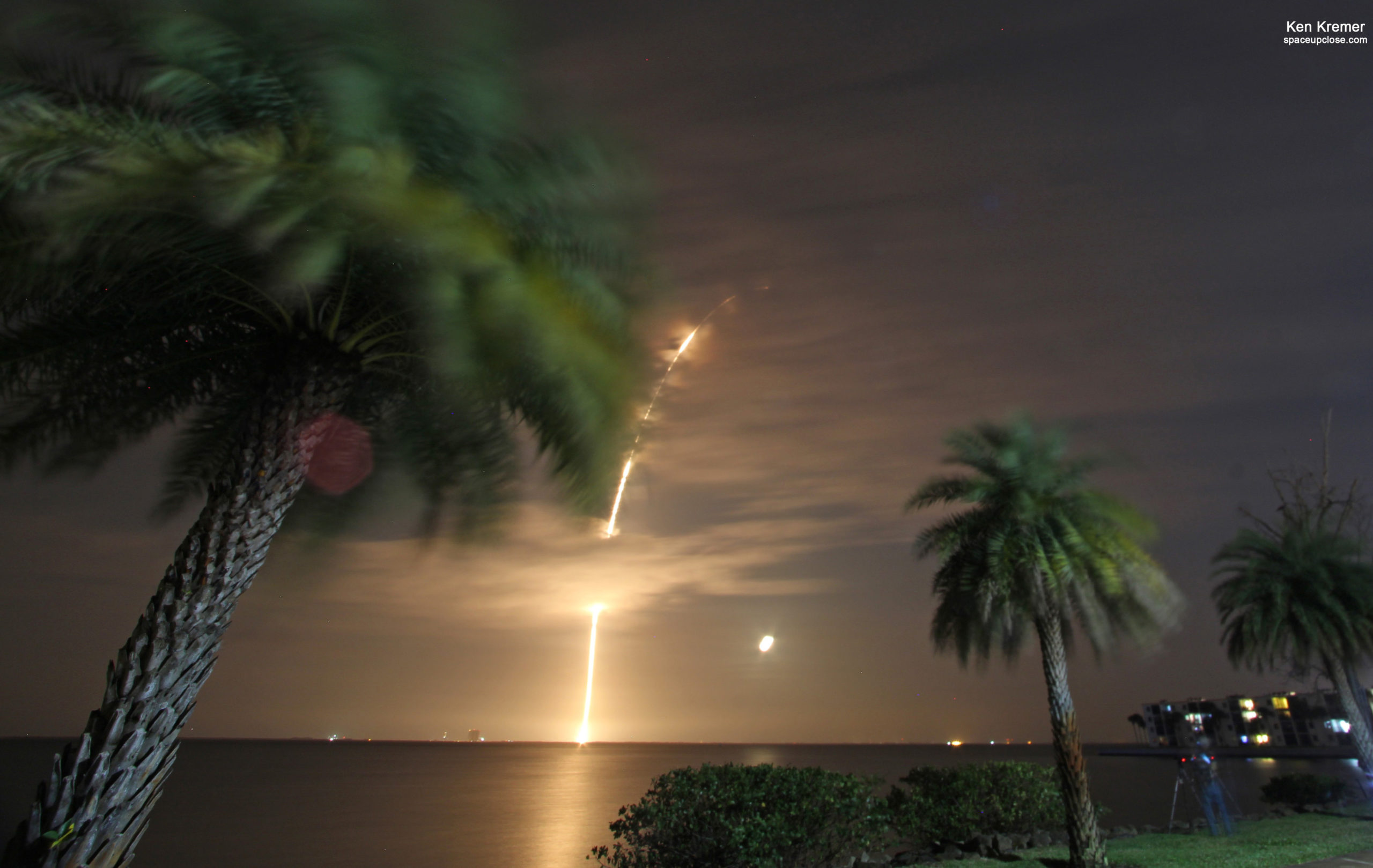 For SpaceUpClose.com & RocketSTEM
TITUSVILLE, FL – Just past midnight, SpaceX lofted another 55 Starlink high speed broadband internet satellites to low Earth orbit while accomplishing the fastest turnaround between missions – five days and three hours – from the same pad! Namely complex 40 on Cape Canaveral Space Force Station in Florida, and soaring away again on a southeasterly trajectory.
The stellar looking liftoff lit up the midnight skies briefly turning night into day with luscious views as the 12x flown Falcon 9 punched through a thick low cloud deck and darted through scattered clouds before disappearing completely about two minutes after liftoff – but not before delighting crowds ringing the Space Coast.
The Starlink satellite constellation is thus fortified to nearly 400 strong!
Everyone got lucky as the official prelaunch weather forecast from the U.S. Space Force meteorologists was only 20% GO!
Fortunately, despite the very poor prognosis the frontal boundary with rains and strong winds moved away from the space port and the skies cleared in the nick of time and the SpaceX launch team cleared the rocket for liftoff on the first of three possible instantaneous launch windows and gave the GO for fueling – before the awful weather returned soon thereafter.
Liftoff of the veteran 229-foot-tall (70-meter) Falcon 9 booster B1062.12 on the Starlink 5-4 mission delivered 55 more Starlinks to orbit and took place shortly after midnight  into partly cloudy night skies at 12:10 a.m. EDT (0510 GMT) Sunday, February 12, from Space Launch Complex 40 (SLC-40) at Cape Canaveral Space Force Station in Florida.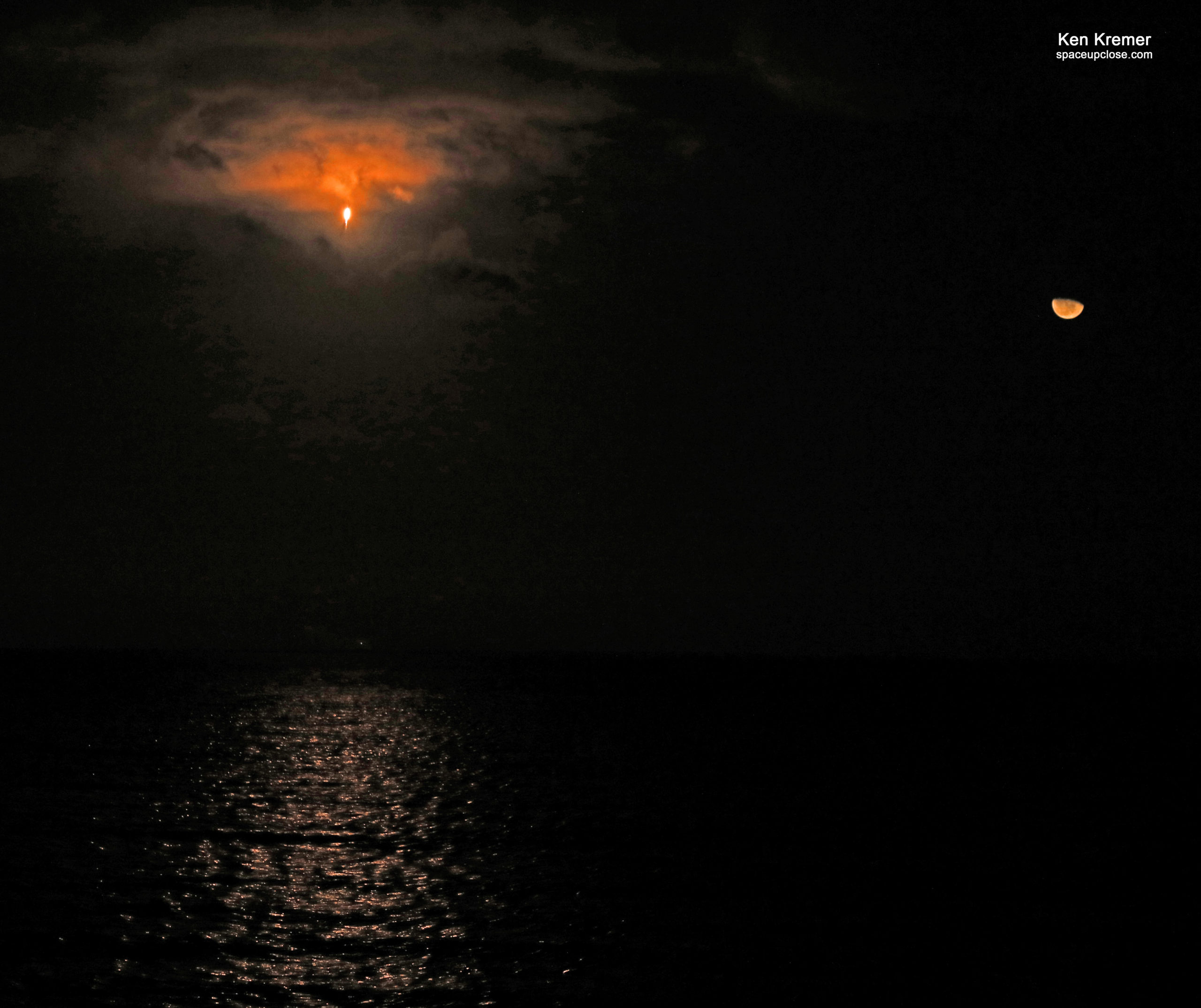 We watched from about 12 miles away along the Indian River Lagoon as the Falcon 9 ignited and rose mightily soaring on a southeasterly trajectory and arcing over a Red Rising Half Moon.
The ravenous look red half moon was about 67% illuminated.
Enjoy our photos of the SpaceX Starlink 5-4 mission taken by the Space UpClose team of Ken Kremer and Jean Wright.
Overall Starlink 5-4 counts as SpaceX's 10th launch of the new year!  From pads in Florida and California.
SpaceX continues its blistering launch pace – now once every 4 days since Jan. 1.
Absolutely remarkable!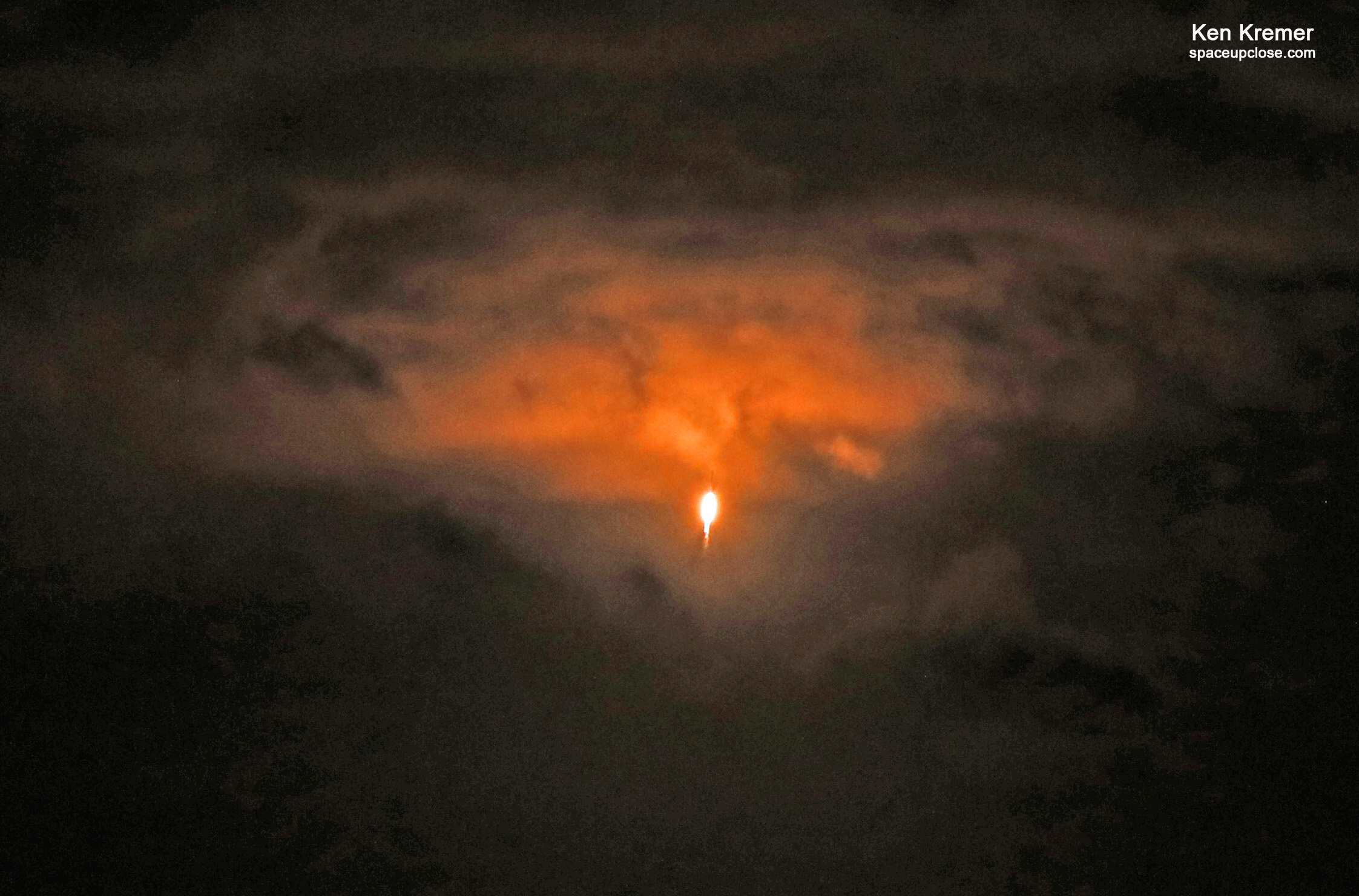 They are hoping to launch as many as 100 Falcon rockets in 2023 – far surpassing the record breaking 61 launches in 2022! – and 31 in 2021!
Meanwhile SpaceX continues ramping up Starship launch activities at the Starbase facility in Boca Chica in south Texas, where they just completed the first full duration static test firing of the Super Heavy rocket – firing 31 of 33 Raptor fist stage engines.
The first orbital test flight of the Starship Super Heavy could take place as soon as March, according to SpaceX CEO Elon Musk.
The first stage booster supporting this mission B1062.12 previously launched 8 astronauts on the history making private pair of crew missions Inspiration-4 and Axiom-1 as well as GPS III Space Vehicle 04, GPS III Space Vehicle 05 for the U.S. Space Force plus Nilesat 301, and six Starlink missions.
Following stage separation, the first stage landed on the A Shortfall of Gravitas (ASOG) droneship about 8 minutes after liftoff, which was prepositioned in the Atlantic Ocean north of the Bahamas – again similar to the Starlink 5-2 and 5-3 missions launched on Jan. 26 and Feb 2.
Falcon 9's first stage has landed on the A Shortfall of Gravitas droneship – completing this booster's 12th flight pic.twitter.com/nPCkH5NND5

— SpaceX (@SpaceX) February 12, 2023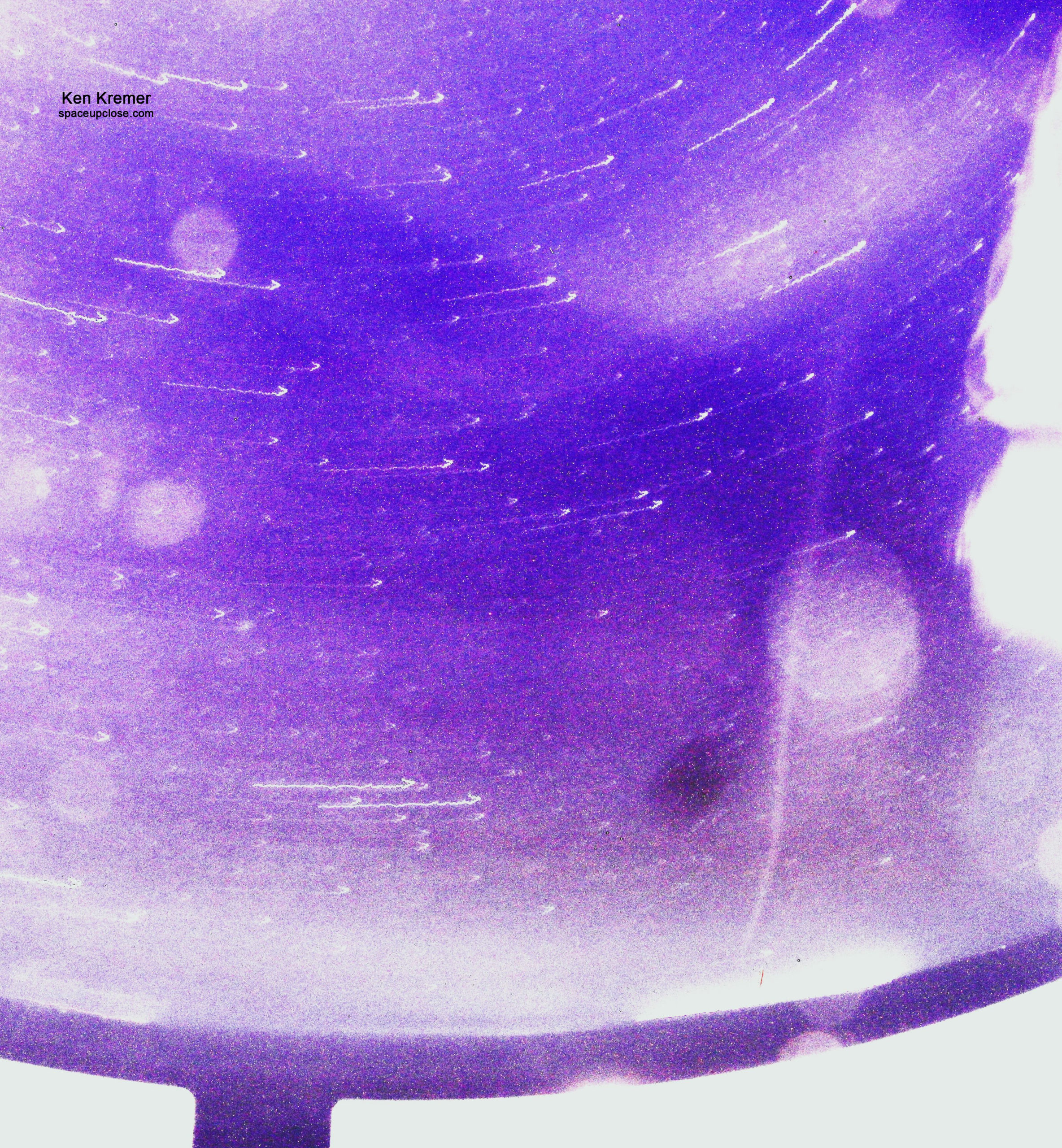 Starlink provides high speed, low latency broadband internet connectivity now on a global basis to all 7 continents.
The Starlinks deployed as planned at T + 1 hour and 3 minutes after liftoff.
Deployment of 55 Starlink satellites confirmed

— SpaceX (@SpaceX) February 12, 2023
This counts as the 72nd launch with a primary purpose of placing Starlink internet satellites into orbit.
SpaceX manufactures the Starlinks in-house in Redmond, Washington.
These Starlinks are part of the Gen2 upgraded version
The flat-paneled, solar powered refrigerator-sized satellites were deployed into an elliptical orbit at an inclination of 43 degrees to the equator.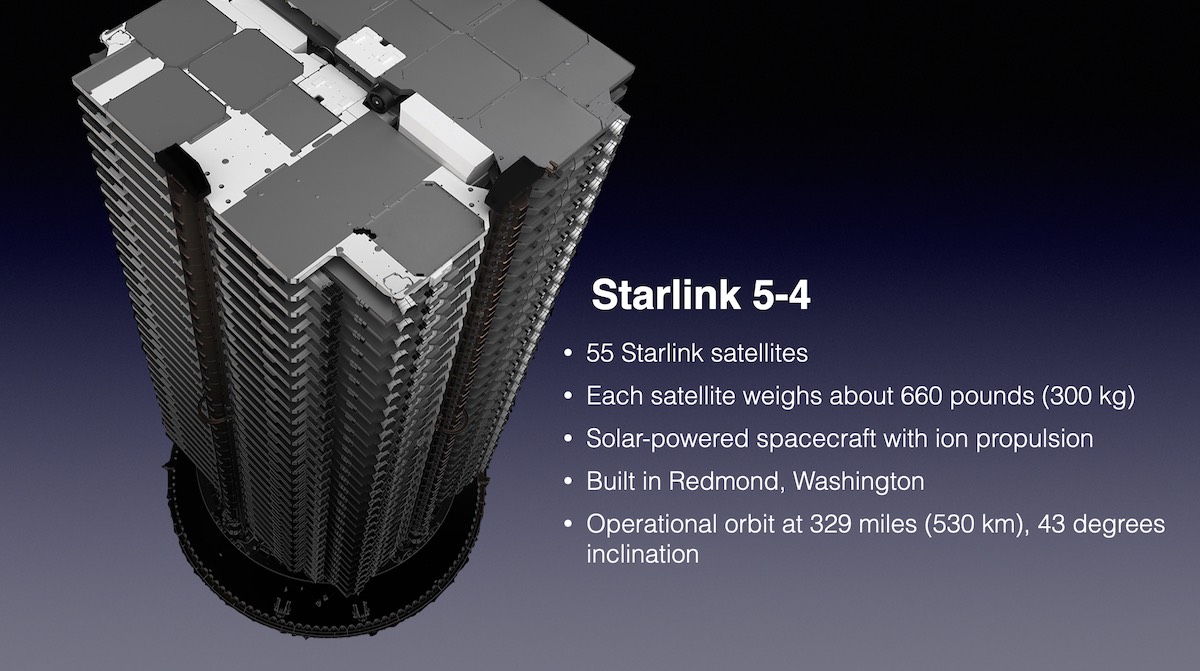 The Starlink satellites will use on-board krypton ion propulsion to raise themselves to their final operating circular orbit some 329 miles (530 kilometers) above Earth.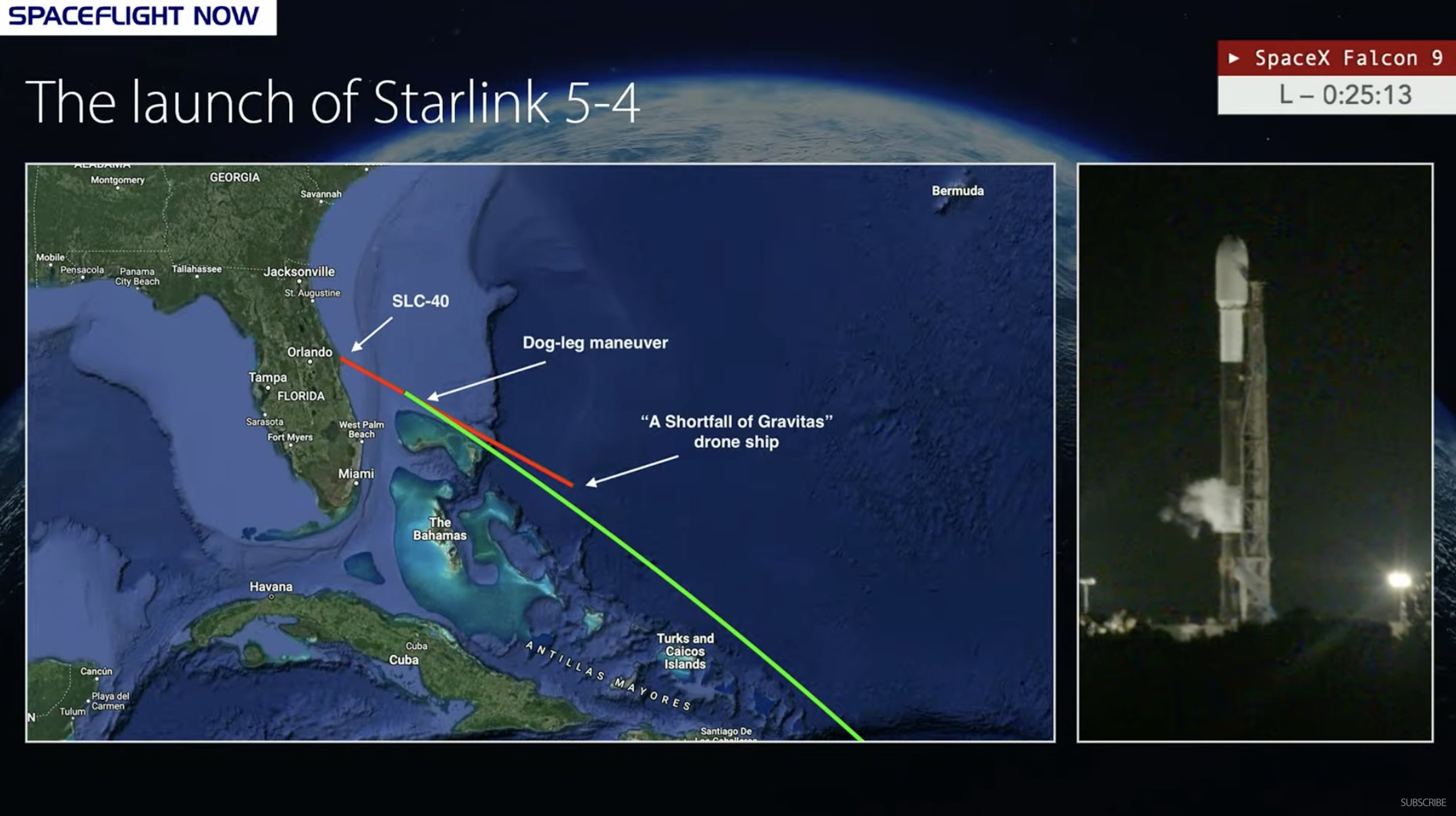 To date SpaceX has launched 3930 Starlink satellites including prototype and test versions and failed ones, according to a tabulation from astronomer Jonathan McDowell, at the Harvard-Smithsonian Center for Astrophysics.
https://planet4589.org/space/con/star/stats.html
Currently SpaceX has more than 3,589 functioning Starlink satellites in space, with about 3,192 operational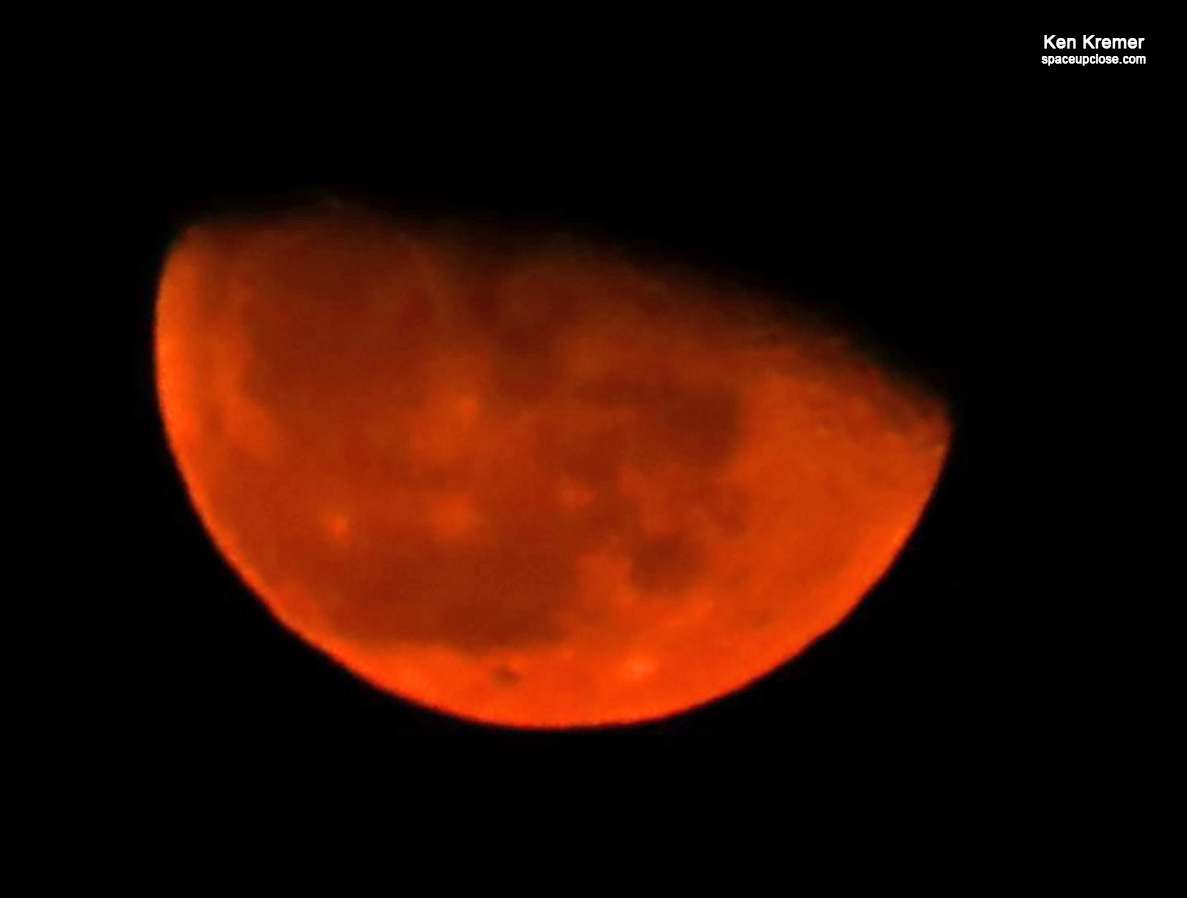 SpaceX has FAA approval to deploy 12,000 Starlinks and eventually hopes to deploy well over 30,000.
A very busy schedule is ahead in Feb culminating in the NASA SpaceX Crew-6 launch of 4 astronauts to the ISS NET Feb. 26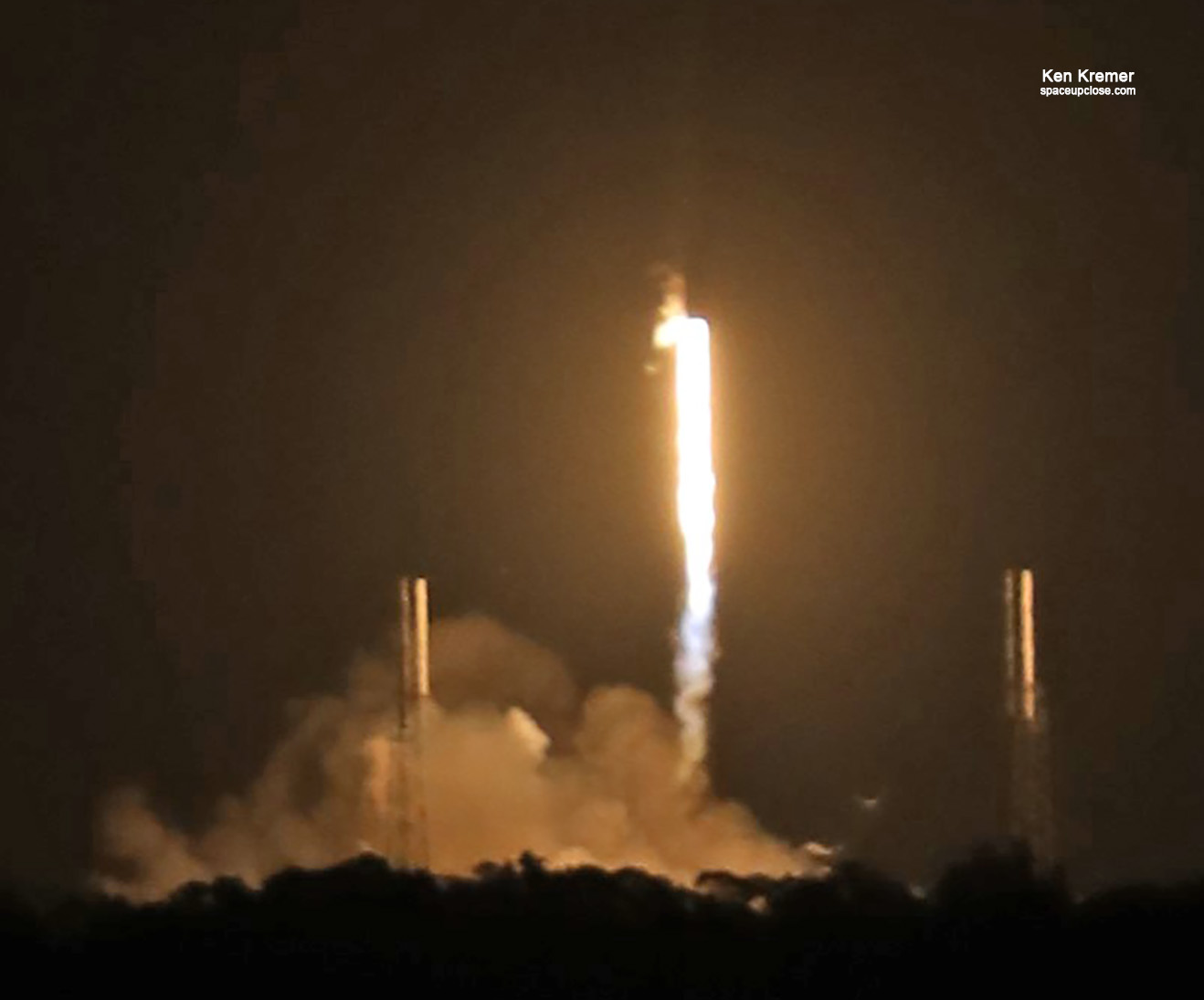 Watch Ken's commentary about NASA. Project Artemis SLS and Orion, SpaceX Falcon Heavy, Crew-5 & 6, NASA SpaceX Crew & Cargo Dragons and more
Feb 9/10:  WFTV ABC News Orlando interview about SpaceX Starship successful static fire test of 31 Raptor engines at Boca Chica
https://www.wftv.com/news/local/brevard-county/spacex-completes-successful-static-fire-test-33-engine-starship-booster/LDYL2CDXS5ETHG7TGG2RH2JV7I/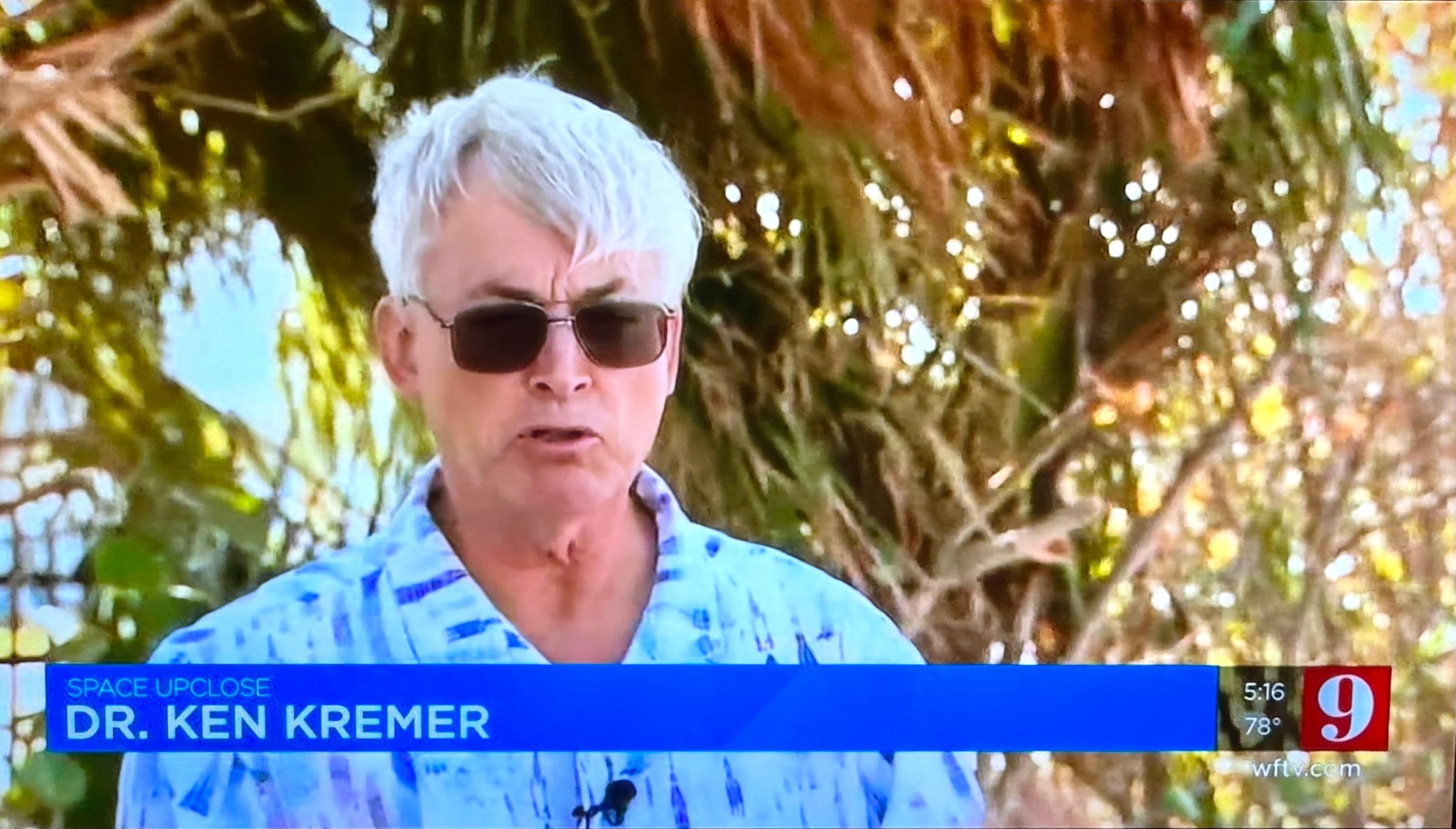 Feb 8/9:  WFTV ABC News Orlando interview about how NASA needs a definitive and fully funded plan to deorbit the ISS safely in case of an emergency and serious debris hit causing it to lose control b4 it's terminated in 2030- in light of the recent Soyuz crew capsule leak from micrometeoroid impact
Jan 3/4: WFTV ABC News Orlando interview about Jan 3 SpaceX Transporter 6 launch – 1st of 2023 – and record setting year ahead with many exciting missions for NASA and private astronauts, science probes, mission, US Space Force, new rockets like ULA Vulcan & more!
Dec 28/29: Fox 35 Orlando – Watch my commentary about NASA's fantastic success in space exploration in 2022 and ambitious schedule of whats ahead in 2023:
https://www.fox35orlando.com/video/1159922
Dec 11/12: BBC World News TV interview about  successful splashdown of NASA Orion concluding the 25 day Artemis 1 lunar test flight around the Moon and back, and how that sets up a human return to the Moon on Artemis 2 and landing on Artemis 3. Plus what's beyond for NASA deep space exploration to Mars and the search for life beyond Earth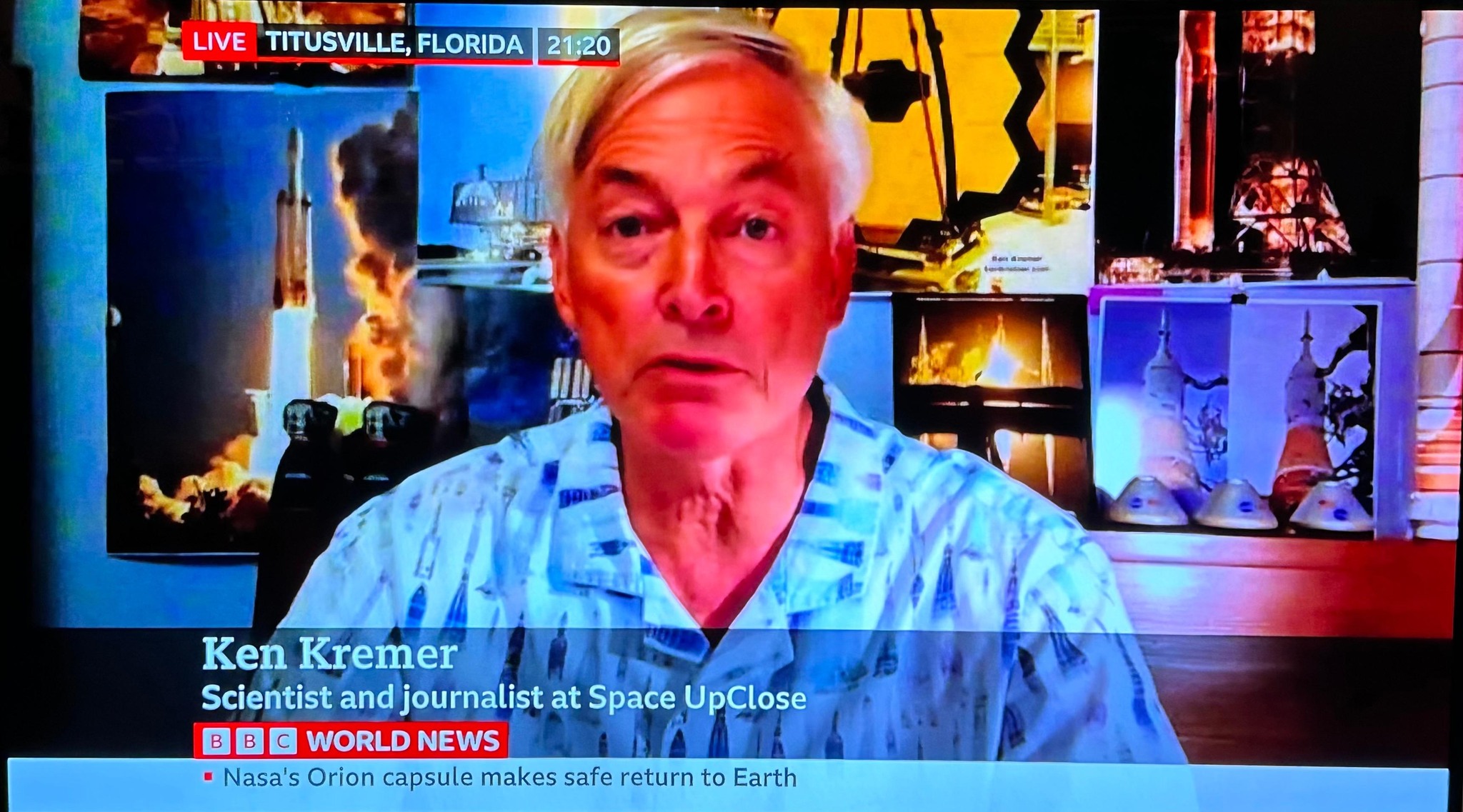 Watch Ken's continuing reports about Artemis, SpaceX missions, SLS, Orion and NASA missions, SpaceX Crew and Cargo Dragons, SpaceX Axiom, JWST, DART, Lucy Asteroid mission, GOES, SpaceX Starlink, Commercial Crew and Starliner and Crew Dragon, Blue Origin and Space Tourism, and onsite for live reporting of upcoming and recent SpaceX and ULA launches including Crew 1 & 2 & 3 & 4 & 5, ISS, Solar Orbiter, Mars 2020 Perseverance and Curiosity rovers, NRO spysats and national security missions and more at the Kennedy Space Center and Cape Canaveral Space Force Station.
Stay tuned here for Ken's continuing Earth and Planetary science and human spaceflight news: www.spaceupclose.com – twitter @ken_kremer – email: ken at kenkremer.com
Dr. Kremer is a research scientist and journalist based in the KSC area, active in outreach and interviewed regularly on TV and radio about space topics.
………….
Ken's photos are for sale and he is available for lectures and outreach events
Please consider supporting Ken's work by purchasing his photos and/or donating at Patreon
https://www.patreon.com/kenkremer
Upcoming and recent space events and talks by Ken Kremer & Jean Wright
Jan 21-28: Carnival Cruise Ship Mardi Gras: "What Happening at NASA and Space Exploration" & SpaceX Falcon 9 Starlink 5-2 launch viewing party Jan 26
Jan 12, 2023: 10 AM at Westminster Retirement Center in Orlando/Winter Park, Florida: Presentation by Jean Wright – "Sew Sister to the Stars- How the Humble Art of Sewing Transformed the World of Flight"+ Artemis 1 Moon rocket update
Nov 29 at UCF, Orlando Florida: Presentation by Jean Wright – "Sew Sister to the Stars- How the Humble Art of Sewing Transformed the World of Flight"
Feb 4, 11, 24, 25; Jan 7,11- 2023; from 7 to 9 PM Quality Inn, Titusville, FL:  Join Ken and Jean for Artemis 1, Falcon Heavy and space mission and rocket launch outreach. Ask us anything. plus display our photos and space apparel items for sale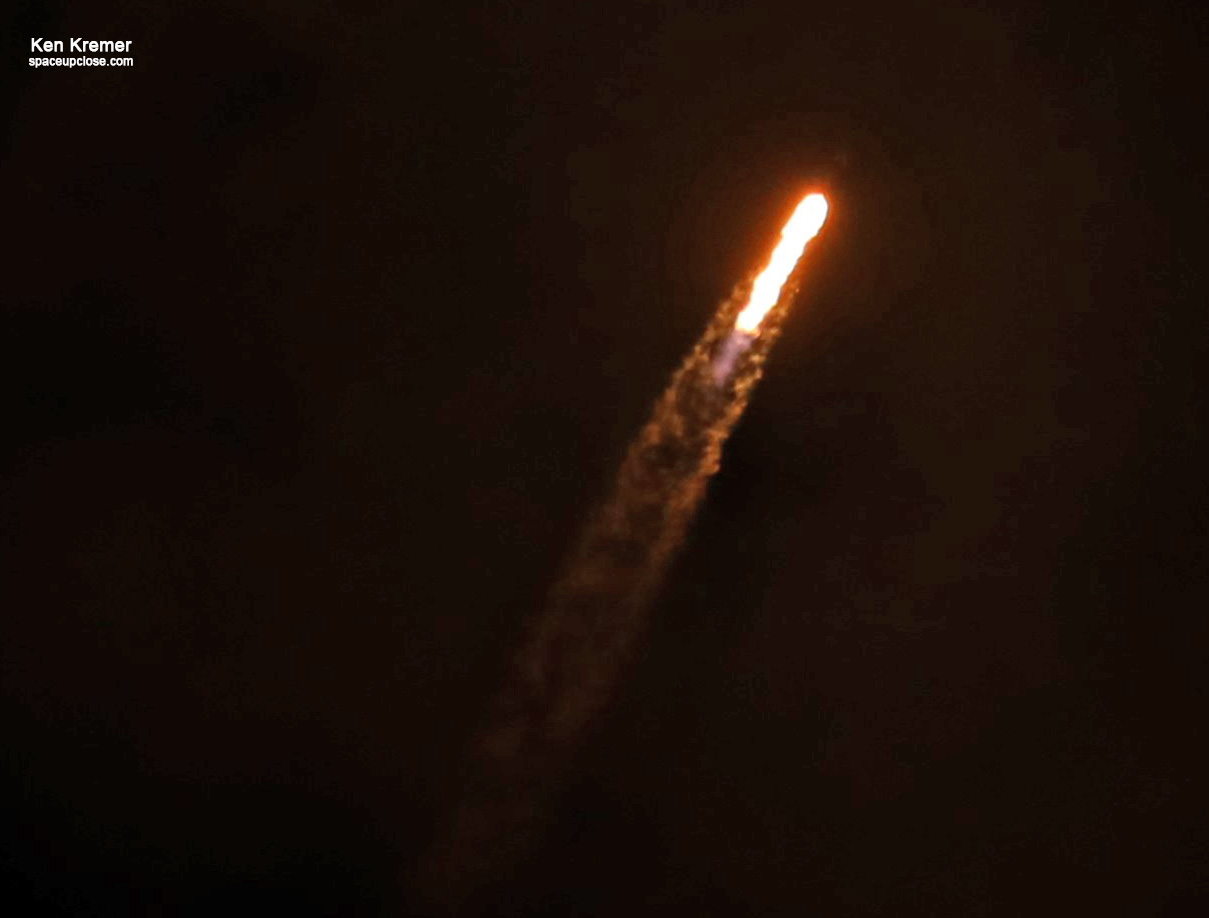 x